This guide is for those who have trouble getting their internet download to work. If you have no internet access in the computer you're going to install Avast onto. Or, if the Avast download is simply too slow and takes forever to complete. Here's a guide to download Avast Free Antivirus 2017 offline installer or offline update for Windows 10 / 8.1 / 8 / 7 / Vista / XP 64 bit or 32 bit (x86).
Avast Antivirus has been the most reputable antivirus software since 1988 and the first ever Antivirus software ever existed for Windows 95 more than two decades ago. In 2016, they acquired AVG technologies and now they have more than 400 million users from all around the world. Killing more than 2 billions virus attacks every month. It has always been the most popular and most used antivirus software in the world. If you are here still doubting if you should choose Avast as your protection, well, think no further and download Avast Free Antivirus now.
Avast Free 2017 Offline Installer Download
We hardly see anyone installing an antivirus software from a CD now. Be it a software, movie, app or game, we download everything from the internet. But there are still exceptions. For instance, if you have a computer without internet access, if your computer has a virus blocking you from going online, or if your internet speed is simply too slow. If either of these is the case, you may need to transfer Avast installer from an external medium such as a USB flash drive or a CD to these computers. Thus, you need an Avast offline installer.
The default Avast installer which you can download from Avast homepage, by default, is a tiny setup files. It doesn't contain any installation files. It will only start downloading all the necessary files when you run the installer. If you transfer this default Avast free installer to a computer without internet access, it won't install. So, you will need an installer which already contains all the necessary files and would install right away without internet access. But, there's no link to these Avast offline installer on Avast homepage.
They are not hidden though, it's just rather difficult for us to find it. Avast wants us to use its default installer because of its simplicity and it's actually the best method to automatically download the latest virus definition and program updates upon your initial installation. An Avast offline installer can be way outdated if it's already been too long since you have downloaded it. Make sure you download the latest Avast offline installer if the computer you are going to install it into doesn't have internet connection for Avast to run its update.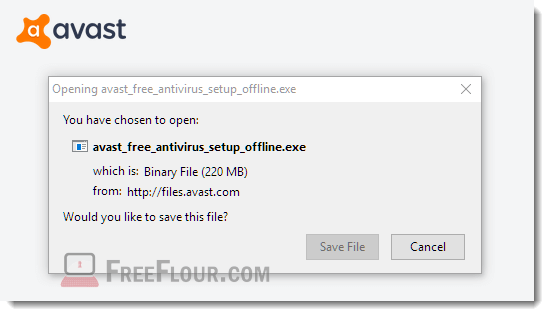 Download Avast Free Antivirus 2017 Offline Installer Update
If you head straight to avast.com, you won't see any link linking to Avast offline installer download page. The download from avast.com homepage is the default installer mentioned earlier that still needs internet connection to run.
So, here's the link to the Avast 2017 offline installer download page: www.avast.com/download-software. In that page, you can choose to download the following versions of Avast Antivirus software:
Avast Free Antivirus
Avast Pro Antivirus
Avast Internet Security
Avast Premier
Avast Free Mac Security
Both Avast Free Antivirus and Avast Free Mac Security are free. The rest needs a subscription license. Avast free antivirus should be sufficient for casual home usage and internet browsing. All of these downloads on that page come with full installations files and latest updates that doesn't need an internet connection to run. The size of each installer is about 200mb.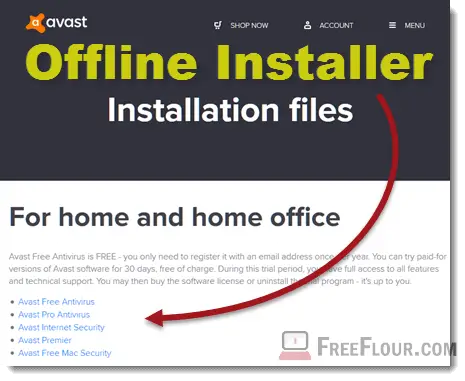 You can also copy the Avast offline installer to anywhere you like. They should install in any computer just fine. However, if you want to update your previously installed Avast offline, you can't just download an update. Read more about this below.
Avast Antivirus Offline Update Download
As for Avast updates, you can't really download only a certain update. The only way to download Avast update offline is by downloading its latest Avast offline installer again.
If you have internet access, it's still recommended that you let Avast run its update automatically. It should update itself just fine. The size of each update should be considerably smaller than downloading the entire Avast offline installer. Virus definition updates should be tiny in size, while program updates can be several tens of megabytes.
So, it's all up to you. If you insist to download Avast update offline externally, go back to the page where you download Avast offline installer from. And download the latest Avast offline installer. It should contain all the latest virus definitions and program updates.
However, Avast releases updates very frequently. Usually somewhere around twice in a week whenever there is a new virus definition to be added. It would be rather hard to keep up if you had to keep downloading the Avast offline installer. But, that's probably the only way to update your Avast on a computer that has no internet connection.