The actual error message from Facebook that you may have received, "Your account is currently unavailable due to a site issue. We expect this to be resolved shortly. Please try again in a few minutes." We have written a list of possible causes of this problem and their respective solutions below.
Why is my Facebook account temporary Unavailable?
It could be due to one of the following reasons. Facebook is doing something big behind such as an update that is so important and complicated they have to temporary bring their site down for a moment. Your connection problem between your computer network and Facebook server. Old browser cache you haven't already flush away that shows you this error message even though Facebook is already fixed. Or that there is a problem with your Facebook account or page.
While there is no guarantee that the below solutions will work for you, we will try our best to explain everything in detail so that you understand what you're about to do and what this "account temporary unavailable" error message is all about.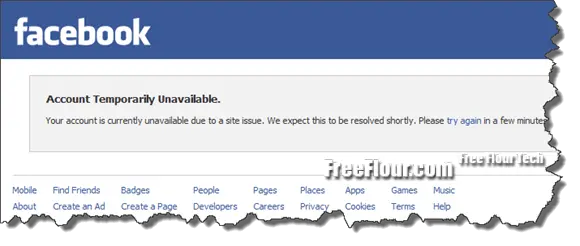 Clearing your browser cache -Facebook account temporary unavailable
A browser cache is a copy of the actual website page saved onto your local computer disk to be loaded the next time you visit the same webpage.
The purpose of a cache is to be able to surf faster and not loading the same thing over and over again, and of course to save your internet bandwidth. That said, if you have an old cache of Facebook page saved in your local disk, your browser may be loading the old one instead of requesting the new updated page if Facebook has an update earlier.
What you need to do is pretty clear, flush your browser cache and cookies. To remove and clear all your browser cache at once, follow the instructions below.
If you are using Mozilla Firefox, go to Tools, Options, Advanced, Network tab, click on both the "Clear now" button for Cached Web Content and Offline Web Content and User Data.
If you are using Google Chrome, click on the Customize button, and then to Option, Under the hood, Clear browsing history, check the option for "Delete Cookies and other site data", proceed clicking Clear browsing data to clean off everything.
For Internet Explorer user, go to Tools, Internet Options, Delete, select Cookies and browsing cache, hit Delete.
Be warned that this will also remove all login history of any website you've visited. This means that you will need to perform sign in again for websites that you "stayed signed in" such as Gmail.
After clearing your browser cache, try visiting Facebook and signing into your account again.
Just wait patiently for a couple of minutes
Actually, the very first thing you should do is to ask your friends around and see if they can access to their Facebook account. If they too can't access to theirs, it's obviously because Facebook is doing something at their server end and causing users around your area to not be able to login to their account. This may happen rarely but it did happen several times before. Don't try to start messing around with your computer before you are sure that it's your problem.
Give Facebook a couple of minutes to fix their things. Sit back, have a cup of tea and come back awhile later.
Check if your internet connection is running OK
If your friends can access to Facebook and none of the computers in your house that share the same connection is able to connect to Facebook, it probably due to your connection problem.
Check if you are using a proxy server that is not working or no longer in used. Turn it off if you are not using it anymore or if it no longer works anymore. This is the most common reason people have their login and sign in problems with all the web services.