The main purpose of this post is to show you how you can better secure your Facebook account and improve your Facebook login experience using Facebook's security features.
However, if you have came to this page because you have forgotten your Facebook login ID and/or password, head to the Facebook Homepage and then click on the "forgot your password" link below the password field to retrieve your Facebook ID or password.
Login Alert – Get notified when anyone logs into your account
All the Facebook's security features can be accessed through Facebook homepage, "drop down menu" at the top right corner of the page, "Settings" and then "Security". From there you can find a list of account security features which you can enable and edit to your preference to better secure your Facebook account.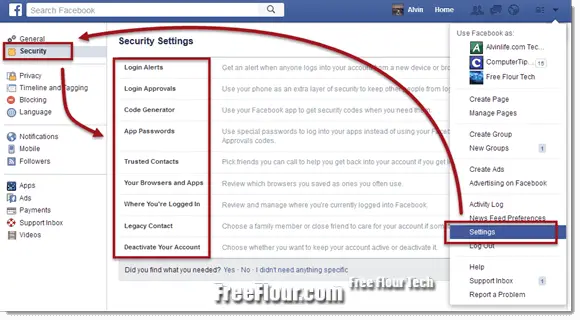 Among all these features, the most used is the Login Alert feature. When this is enabled, you will get notified via email and/or mobile notification (up to your preference) whenever a login attempt is made from a new device or browser from a new computer. By enabling this feature, you can make sure you will be the first one to know when someone you don't expect login to your account without your permission. To enable this feature, simply click on the edit button beside Login Alert and enable the method of notification of your choice.
Login Approval – Mobile Phone 2 Ways authentication login
This feature allows you to use your phone as an extra layer of security to keep hackers away from logging into your account.
When Facebook Login Approval is enabled, you will receive a security code via SMS directly to your mobile phone which will be needed for any login made in a new device or browser. So, whenever anyone (that includes yourself) wants to login to your Facebook account, they will need this security code (which will be different every time you login from a new device/browser) in order to fully login to your account.
Although it may sound inconvenient and complicated to use this method to login to your account, enabling Login Approval is still highly recommended because no one else will get to login to your Facebook account without getting access to your mobile phone. Below are some tips and tweaks about Facebook Login Approval feature.
If you have trouble receiving SMS (perhaps you have no cellular connectivity on your device such as a tablet), you can choose to receive this security code via your Facebook App on your tablet or smartphone. This feature is called Code Generator which can be found right under Login Approval.
Some Apps that uses Facebook such as Skype, Jabber and Xbox can't receive security codes, meaning that you could get locked out if you can't get the security code entered. To solve this, you will need to set up an App password (which is different from your actual account password) specifically to securely login to these Facebook Apps without going through the security code thing. To set up this password, go to App Password which can also be found under Code Generator and Login Approval.
Trusted Contacts – Friends who can help restoring your Facebook account
Facebook has this brilliant feature called Trusted Contacts where you can select friends from your Facebook friend list who will then be the one to help you to restore, unlock or retrieve your Facebook account if your account is locked out or that you have forgotten your account ID and password.
You will need to choose a minimum of 3 trusted friends to be your Facebook trusted contacts. If you have trouble accessing your account, trusted contacts will appear to be a recovery option. When this happens, Facebook will send a security code to each of your trusted contacts and you will need to get all these codes from your friends to retrieve your Facebook account.
You should select only your trusted family or friends who you always stay in touch with because you will need them to give you the code (every single one of them who you set to be your trusted contact) if you ever need them.
Review Where you're logged in and What you used to login
If you ever suspect any unauthorized login attempt or activity of your Facebook account, you can check and review where your account is logged in, the date and time, exact location, and type of device the suspect uses to login to your Facebook account from the "Where you're logged in" feature in the Facebook security page.
By reviewing this information, you will have better idea of where and how your password was stolen (whether it's from an internet cafe or a public computer in an airport).