The objectives of this topic are for users to understand about the internet and WWW, recognize how Web pages use graphics, animation, audio, video, virtual reality, and plug-ins, identify the steps required for Web publishing, describe the types of e-commerce, explain how e-mail, FTP, newsgroups and message boards, mailing lists, chat rooms, instant messaging, and Internet telephony work, and identify the rules of netiquette.
What are the services found on the Internet?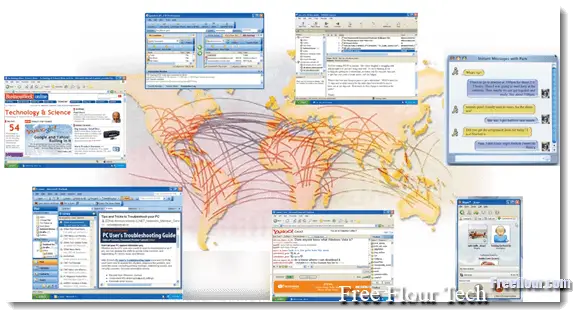 History of the Internet
How did the Internet originate?
ARPANET – Networking project by Pentagon's Advanced Research Projects Agency (ARPA).
Became functional September 1969.
Goal: To allow scientists at different locations to share information.
Goal: To function if part of network were disabled.
How has the Internet grown?
1969 – Four host nodes
1984 – More than 1,000 host nodes
Today – More than 350 million host nodes
Who controls the Internet?
Basically, no one.
It is a public, cooperative and independent network.
Several organizations set standards to the Internet.
World Wide Web Consortium (W3C)

Oversees research, sets standards and guidelines.

Internet2 (I2)

Internet-related research and development project.
Develops and tests advanced Internet technologies.
How can you connect to the Internet?
Slow-speed technology
Dial-up access modem in your computer uses a standard telephone line to connect to the Internet.
Connection must be established each time you log on. Slow but inexpensive.
High-speed technology
Digital subscriber line (DSL), cable telephone Internet services (CATV), cable modem, fixed wireless, and satellite modems.
Connection is always on, whenever the computer is running.
How the Internet works
What are the ways to access to the Internet?
ISP (Regional or National)
OSP e.g. AOL and MSN
Wireless Internet Service Provider
What is a domain name?
Text version of Internet Protocol (IP) address. Number that uniquely identifies each computer or device connected to Internet.
What is the World Wide Web (WWW)?
A worldwide collection of electronic documents.
Also called the Web.
Each electronic document is called a Web page.
Can contain text, graphics, sound, video, and built-in connections.
A Web site is a collection of related Web pages.
What is a Web browser?
Program that allows you to view Web pages.
Types of web browsers: Firefox, Chrome, IE, Opera, Safari, Netscape, etc.
What is a home page?
The first page that a Web site presents.
Often provides connections to other Web pages.
How do handheld computers and cellular telephone access the Web?
Use a micro browser that displays Web pages that contain mostly text. Must be Internet-enabled.
What is downloading?
The process of a computer receiving information. Depending upon connection speed, downloading can take from a few seconds to several minutes.
What is a URL?
Unique address for a Web page. A web server delivers the Web page to your computer.
What is a link?
Built-in connection to another related Web page location.
Item found elsewhere on same Web page.
Different Web page at same Web site.
Web page at a different Web site.
How can you recognize links?
Pointer changes to a small hand when you point to a link.
A link can be text or an image.
Text links are usually underlined and in a different color.