Accidentally upgraded to iOS 9.2.1? Looking for a way to possibly downgrade iOS 9.2.1 to iOS 9.0.2 or iOS 9.0 for jailbreak? Is that even possible? Is it too late to do that already?
Not long ago, the final iOS 9.2.1 was officially released to all users with supported iOS devices (iPhone 6s, 6, 6s and 6 Plus, iPhone 5s, 5c, 5, iPhone 4s, iPad air 1, 2, iPad mini 1, 2, 3, 4, most iPad models, and iPod Touch 5 and 6).
Well, for jailbreak beginners who don't yet know the proper procedure and the flows of iOS jailbreak, they might have made a huge mistake and updated their device to iOS 9.2.1 and thought it is jailbroken already.
Can you downgrade iOS 9.2.1 to iOS 9.0.2 / 9.0 for Jailbreak now?
The answer is No. Why? It's because iOS installation, restoration, upgrade or downgrade will have to go through an online check performed directly by Apple through iTunes. We call this the signing process.
Apple has already stopped signing for iOS 9.0.2 or 9.0 a long time ago, thus making downgrade iOS 9.2.1 to iOS 9.0.2, iOS 9.0 or iOS 9.1 impossible.
Every time a new iOS version is released, Apple will start signing that particular iOS until the next new iOS version is seeded. Apple will then stop signing any old ones shortly after the release of the new iOS version. Any iOS version that Apple doesn't sign will not be restore-able in any kind of iOS devices.
For example, Apple stopped signing the iOS 9.0.2 about 2 weeks after the release of iOS 9.1. This is the period of time where users can still downgrade their device to the last iOS version. When Apple stops signing an iOS version, you will never be able to restore to it anymore.
What should I do now if I can't downgrade iOS 9.2.1 to iOS 9.0.2 / 9.0 / 9.1 anymore
Well, if you are already on iOS 9.2.1, you can't jailbreak your device, at least not until an official jailbreak for iOS 9.2.1 or 9.2 is released. So, stop wasting your time searching everywhere for a method that doesn't exist.
You will always bump into iTunes error (such as error 3194, 100, 1671, 53, 1, or 7) whenever you try to restore your iPhone or iPad into an older iOS version that Apple stopped signing long ago (for instance, downgrade iOS 9.2.1 to iOS 9.0.2, 9.0 or 9.1).
If you are an old jailbreak enthusiast who successfully jailbroken the ancient iOS 3, 4, 5 and 6 during the old time, you may be familiar with a word called baseband. Well, baseband no longer exist or simply not crack-able anymore. So saving baseband for your device make no sense now.
Since iOS 7, you can only upgrade or restore your device to iOS version THAT Apple wants you to install. That's the point and what makes jailbreak so difficult these days.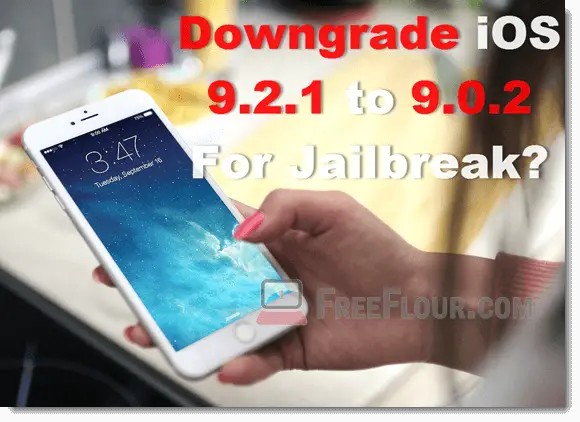 The best thing you can do now is to wait for the iOS 9.2.1 jailbreak to be released. It is also recommended that you downgrade iOS 9.2.1 to iOS 9.2 now before Apple stops signing it 2 weeks later. There is no guarantee that iOS 9.2.1 jailbreak will be available if a jailbreak for iOS 9.2 is released. After all, you can update to iOS 9.2.1 any time you want as long as it's still the latest version of iOS for the public.
You may want to check out iOS 9.2.1 / 9.2 Jailbreak Mac PC for iPhone and iPad. For full tutorial on how to downgrade iOS 9.2.1 to iOS 9.2, refer How to Downgrade iOS 9.2 to iOS 9.1 or iOS 9.0.2 for similar procedures.
Update 1: Apple has just stopped signing iOS 9.2 for all devices. Downgrading From iOS 9.2.1 to iOS 9.2 is no longer possible. As always, there's nothing else you can do if you are on iOS 9.2.1 now. Your best chance is to wait for an official jailbreak for iOS 9.2.1.
Follow us on Facebook and we will keep you updated and notified as soon as iOS 9.2.1 jailbreak is available for your iOS device.