Apple has just seeded iOS 9.3.3 to the public a while ago. If you have accidentally updated your device and want to downgrade iOS 9.3.3 to iOS 9.1 or iOS 9.3.2, here's all your answers.
iOS 9.3.3 finalized all bug fixes and is believed to be the final and most stable version for iOS 9 before iOS 10 which will be released in coming fall. Well, if you face quick battery draining issue, app incompatibility, or that you are just feeling uncomfortable with the current version, you can still downgrade iOS 9.3.3 to iOS 9.3.2 while Apple is still signing for it.
How to Downgrade iOS 9.3.3 to iOS 9.1 for Jailbreak
Even up until now, people are still asking if they can downgrade a later iOS back to an iOS that was released months ago. The answer will always be a no since Apple has this signing system that once they stopped signing for an iOS, which usually happen few days after a newer iOS is released, users will not be able to restore or downgrade to this particular older iOS anymore (iTunes will always return error error 3194, 100, 1671, 53, 1, or 7 when attempted).
Since iOS 9.1 is the latest jailbreak-able iOS, people are looking for a way to downgrade their newly upgraded iOS 9.3.3 to iOS 9.1 for a possible jailbreak. Unfortunately, this is not possible as Apple has stopped signing for iOS 9.1 very long time ago. So, there is nothing you can do other than waiting for a new jailbreak for iOS 9.3.3 which we believe will be available soon according to all the rumors and proven video on social networks.
Update: After all the jailbreak attempts from several greatest jailbreak teams in the world, iOS 9.3.3 is finally jailbroken and is made available to public. The jailbreak tool has just been released to the public by the Chinese Pangu team. You can read more and download the jailbreak tool here.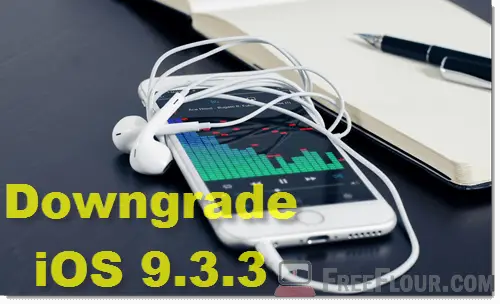 How to Downgrade iOS 9.3.3 to iOS 9.3.2
There is no reason for you to downgrade iOS 9.3.3 to iOS 9.3.2 as iOS 9.3.3 is just a minor update with better feature improvements and nearly all bugs fixed.
There is by far no report or whatsoever on battery draining or app compatibility issue from using iOS 9.3.3. It makes no sense to downgrade iOS 9.3.3 to iOS 9.3.2 for now. It's best that you stay with it as it's just a better version than any older iOS 9.
Update: Now that iOS 9.3.3 jailbreak was already released, if you rely on jailbreak, you should really be using iOS 9.3.3 and enjoy the jailbreak. There is no reason to stay with any older iOS 9 now as the jailbreak focus will now switch to the coming iOS 10.
If you insist to downgrade back to iOS 9.3.2, and assuming Apple is still signing for iOS 9.3.2 the time you read this article, here's how to do it.
Download iOS 9.3.2 IPSW file and make sure it matches your iPhone or iPad model.
On your iPhone, go to Settings > iCloud > Find My iPhone. Slide to disable it. This is to make sure nothing will interfere the restoration process.
Connect your iPhone or iPad to your Windows 10/8/7 PC or Mac. Download and install the latest version of iTunes.
Launch iTunes. Backup your device by creating a full backup using iTunes and sync all your photos, videos, data, etc.
When your iPhone shows up on iTunes, click on it. Under the summary tab, hold shift + left click on the Restore iPhone button. On a Mac, hold Option/Alt key while clicking on the Restore button. A window will then pop up. Browse to the folder location where you downloaded your iOS 9.3.1 IPSW file to. Select the file and the restoration will begin automatically.
Your iPhone will restart several times during the process. Once it's completed, your device will boot up with a clean version of iOS 9.3.2. Once again, do not use this procedure and attempt to downgrade iOS 9.3.3 to iOS 9.1 or iOS 9.0.2 for jailbreak. It will not work and may risk bricking your device.