Windows 10 is a huge evolutionary step for Microsoft Windows in the enterprise. Most features that were once in Windows are now either improved to a whole new level or removed and replaced with much better ones. Because of this, users have been struggling to get used to the new unfamiliar interfaces. Troubles arise everyday even with the simplest thing in Windows 10.
The old classic F1 help used to be in prior versions of Windows doesn't exist anymore in Windows 10. So, how does one get helps in Windows 10? We use and utilize the start menu and the search box (Cortana) to find information and answers on how to use Windows 10. It's actually much better than the classic F1 help in the old Windows. You can now easily look for anything you want instantly with the help of Cortana.
How to Get Help in Windows 10
We suggest you to launch the Windows 10 Get Started app first after your Windows 10 installation. It has nearly all information about Windows 10 compressed in one single place, from start menu tips to in depth Cortana, Microsoft Edge and Apps Store guide.
If you are new to Windows 10, you should definitely launch the Get Started app and start viewing the videos and written guides provided by Microsoft. These videos are made and meant to interest you. They are not as boring as reading the old user manual in the old Windows OS.
To open Get started, go to your Start Menu and simply search for Get Started.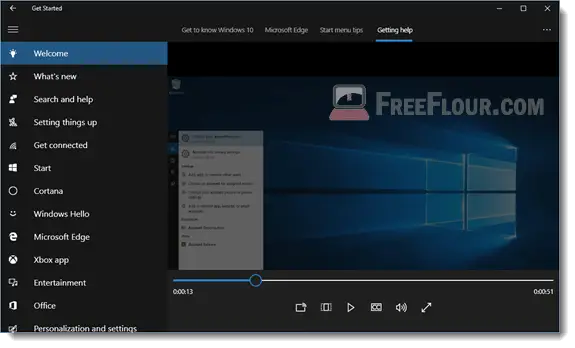 F1 key still works in some cases but the ultimate results will lead you to a browser for an answer. This is not very optimized as it won't be useful especially for people who don't have an active internet. To get help in Windows 10 for a specific item or window, on that particular window press F1. It will search and show results in a browser via Microsoft's Bing Search engine.
How to Get Help with File Explorer in Windows 10
Browsing files and folders in Windows 10 is pretty much still the same as ever. The only difference is probably the arrangement of folders and drives in the file explorer window.
There are two ways to access to the file explorer:
Access via the Start Menu, then File Explorer, located right above Power and Settings options.
Access through This PC desktop icon.
This PC is the highest level of folder path in Windows 10, similar to that of what we called My Computer. By default, This PC window will show you all the key folders such as Desktop, Documents, Videos, Music, Download and Pictures as well as all the hard drives and roms you have.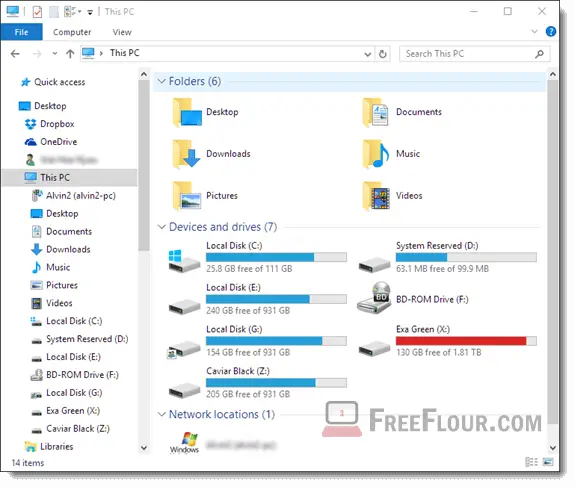 If you are accessing it through File explorer, you will be shown the recent opened files and frequent folders. You can select This PC from the left panel to browse to your drives, files and folders.
How to Get Help in Windows 10 Media Player
Windows Media Player, by default, will automatically be installed along side with Windows 10 and upgrade-able via Windows Update. The default version is WMP 12.
The interface, functionalities and features are all the same as previous versions of WMP in other older Windows OS. To seek help for how to properly play a video in Windows 10 Media Player, open up Windows Media Player and click on the Help button on the menu bar, or find your answer using the Cortana search bar.
How to Get Help in Windows 10 Printer
For recent latest models of most printers, Windows 10 will be able to automatically recognize and work with your printer. All you have to do is to plug your printer into your Computer and select print via any document or picture editing software you were using such as Microsoft Office or web browsers.
As for older models of printers, you will have to manually install the driver either via the installation CD disk that came with the printer or download from manufacturer websites.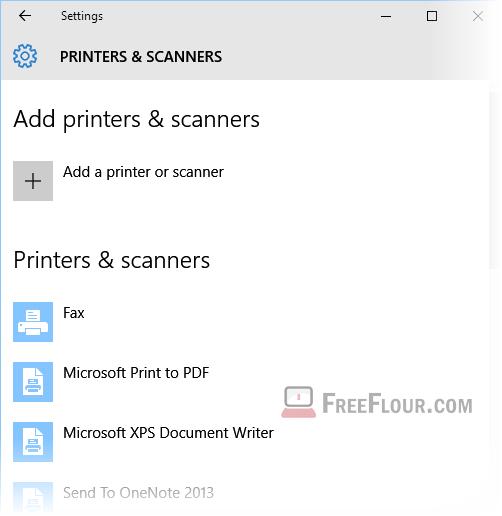 To access to your printer configuration, go to Start menu and search for Printer. Select Devices and Printers. Your printer will be shown provided if its driver was successfully installed.
Use Cortana search bar to look for any specific info about printer in Windows 10.
How to Get Help in Windows 10 No Sound
Check with your audio cable and make sure they are working as intended. Check if you have your audio driver installed especially if you have a standalone sound card.
Launch Windows Update to automatically update and install the proper driver for your audio devices.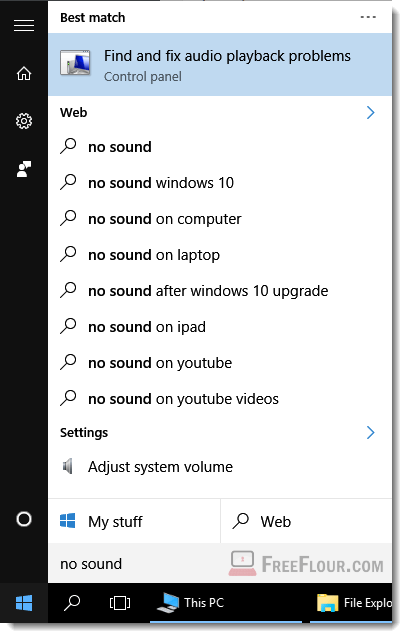 The Sound control panel can be accessed by going to the Start menu and search for Sound.
Learn to use the search bar to fix your problem. In this case now, to fix your audio no sound problem, use Cortana and input no sound to search for an answer, Cortana will show you the right way, in our case now, it will show you an app to find and fix audio playback problems.
How to Get Help in Windows 10 Taskbar
Taskbar is basically still the same as ever with several additional features added to it. Time and date are still at the same corner with all your running apps notifications and icons.
The most surprising feature is the ability to access to your desktop icons directly from the taskbar. Simply click on the double arrow icon beside the word Desktop in your taskbar to bring up a list of all your desktop files, folders and shortcuts.
You can also bring up the tab view (previously only accessible via Alt-Tab) by clicking on the tab view icon beside the start menu and search button. You can also freely pin any app onto your taskbar.