Avast freezes your computer during setup, scanning or update? Computer keeps hanging during startup when Avast is launching? Here's how I fix mine.
What happened to me was that my computer freezes every time during Avast antivirus setup installation, specifically when the installation bar was in around the middle, where my mouse cursor was constantly in the loading state and nothing would respond no matter what I clicked on, til a point where I couldn't even bring up the task manager. First I thought it's some sorts of process that could take awhile to complete, but after waiting for more than 2 hours, I was sure something was wrong. So I went on to look for a solution and below are what I've done to fix the problem.
These solutions not only applicable to when your PC freezes during Avast installation, they also applies to problems where Avast causes your PC to hang when you launch it, during startup, whenever you start scanning for viruses or during any other situation when Avast is suspected to be the cause.
Clean Uninstall and Re-installing Avast Antivirus
By clean reinstalling, I mean a full and complete uninstallation that most of the time can't be done via the Windows default add or remove program feature. We will have to do it manually.
Software issue, files corrupted, registry issue are the common causes when Avast freezes your computer when it runs. The first thing you should do is reinstall Avast manually using the Avast uninstall utility. Here's how:
The uninstall part:
Download avastclear.exe from http://www.avast.com/uninstall-utility.
Start Windows in safe mode.

For Windows 10 64 bit / 32 bit users, simply hold the Shift key while pressing the Restart button from Start menu.
For Windows 8 / 7 users, repeatedly pressing F8 key during startup after BIOS boot screen.

 Once you have booted into safe mode, open avastclear.exe you have downloaded earlier.
If you have installed Avast in a different path than the default, you will have to browse to where you have installed Avast.

Do not simply point to a folder you don't know. Any folder you choose in this uninstall utility will be wiped and removed.

Click Remove when you are sure that you have pointed to the correct Avast Antivirus and internet security installation folder.
Restart your computer when it's done. This is probably the most important step as fresh re-install of Avast only work until next reboot.
The re-installation part:
Make sure you have restarted your computer back to normal mode (non-safe mode).
Download Avast! Free Antivirus or Avast Internet Security (or whichever products you've purchased) from avast.com.
Launch the installer and follow the on-screen instructions to install Avast.
After the installation is done, do not launch Avast yet. Restart your computer. It should work fine now.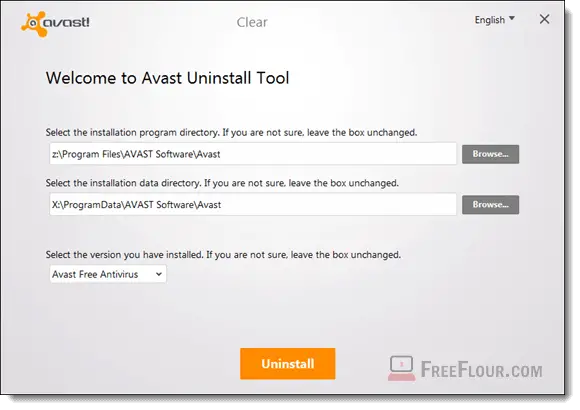 Tip: If you have trouble going into Windows due to your desktop being completely blank or black screen while your mouse cursor can still be seen, here's how you bring back your desktop icons and stuffs so you can do the re-installing:
Launch Task Manager by holding and pressing CTRL-ALT-DEL keys.
Go to the Process tab. Look for a process called explorer.exe. Select it and click End Process.
In Task Manager, go to File > New Task. Enter explorer.exe in the run field and then press OK.
If this doesn't solve the freezing issue, move on to the next solution.
Conflict between Avast and other protection software
Most antivirus software do not work compatibly with each other at the same time. There is also no extra benefit in using more than one Antivirus software at once.
It has been continually reported that protection software such as Microsoft Security Essential, AVG, Avira Antivirus, ZoneAlarm, K9 Web Protection and many others cause issues such as computer freezes, PC automatically restarts followed by Windows black screen (with no icons) and freezes, or protection services fail to run, when it's running together with Avast Antivirus.
If you have other antivirus, anti-malware, spyware or other kind of protection software currently running along with Avast antivirus, try to remove it temporary to see if Avast freezing problem can be solved.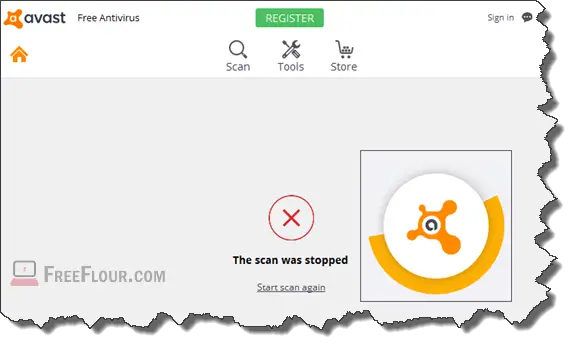 Although Windows Defender should have already been automatically disabled by default if you have an active antivirus software installed, if it didn't, disable Windows defender now as it would also be conflicting with Avast.
Also make sure that your Avast program and definition is up to date. Check and update Avast antivirus program and its virus definition to the latest version.