Avast Resolve all doesn't work or not responding? Avast Shields won't turn on no matter how many times you click on the resolve all button? Avast Shields keep turning off themselves? Avast internet security unable to start firewall? Here are the fixes.
When Avast is showing you that you are unprotected or you are at risk on its software with a red X sign, it means that all its real-time shields, including the web shield, file system shield and email shield are turned off. To turn them back on, you will have to click on the Resolve all button. Here's where our problems started. Resolve all button won't work no matter how you click on it, specifically with a cursor constantly in the loading state. In some cases, Avast will also cause your computer to hang after several attempt of clicking resolve all button.
Make sure Microsoft Windows is genuine and activated
This is reportedly the main cause of the problem. Avast antivirus usually won't work on a computer with Windows that hasn't been activated or isn't genuine (cracked or something).
All Avast's services will not be able to run during startup and thus all the shields cannot be turned on. Whether you are trying to click on the resolve all button or manually enabling its shields one by one, it won't work if Microsoft Windows is not activated or not genuine.
Windows will usually notify you when your license is expired or when it detects that you are using an illegal version of non-genuine Microsoft Windows. If your Windows license is expired, renew it now and the problem should be solved.
If your Windows license is up to date and genuine, but the problem still persists, move on to the next fix.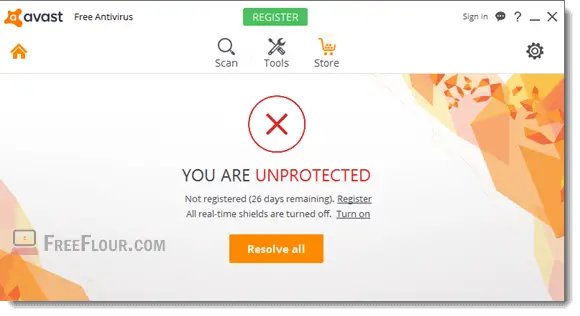 Conflict caused by other antivirus or protection software
Avast antivirus should not be run in conjunction with any other antivirus, anti-malware, anti-spyware, or other kinds of protection software. There will certainly be conflicts between two antivirus or firewall programs running at the same time.
If you have recently installed a new protection software, try to remove it temporary to see if the problem persists. In most cases, this should solve the problem as most problems come from the conflicts if there is any.
There is no reason to run two antivirus at once, there is simply no extra benefit doing so. Imagine if you give the key of your door to two different doorkeepers with their own defend protocols. They would most likely be clashing with each other when something happen.
If none of the above works for you, the next thing is to try a clean uninstall and re-installing Avast program entirely. We have already written a full step-by-step guide and instruction on how you can fully remove Avast (which usually cannot be done via Windows default add or remove program feature) and re-install it in a fresh condition here: Avast cause computer to freeze during scan or update, how to uninstall Avast.
It's also worth to mention that you should make sure Avast program and its virus definition are always up to date. There were often compatibility issues between software especially when they were newly released. Avast will usually solve them and release the fixes in following updates. Update Avast now if you haven't already done so. Simply right click on Avast icon in the notification area and select update.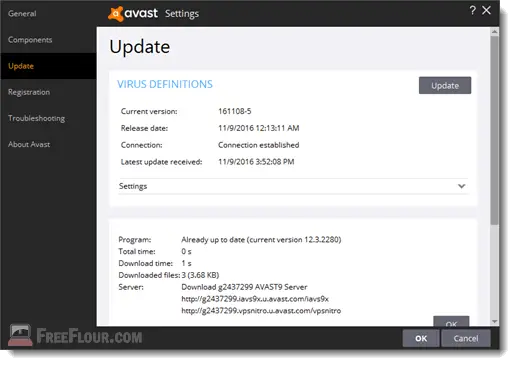 Avast Shields keeps turning off themselves
This had happened to me personally where all 3 main Avast shields keeps turning off themselves without my acknowledgement even after turning them on manually. What's strange is that Avast didn't detect any sign of threat that was doing that.
After several attempts to fix the problem, I came to know that it was caused by a third party firewall which I've installed not long ago. Since Avast internet security also comes with firewall, this is an obvious example of how different firewall programs can cause issue when run together at the same time.
If you have any extra firewall program installed recently, try to disable it and the problem should disappear.