Nothing is as scary as watching your computer screen goes black out of a sudden without any idea or clue of what was happening and what causes it. The worst case scenario, which is usually what we most worry about, is that one of the few very expensive hardware parts has broken and need a replacement. OMG!
Alright, so what we are going to show you in this post is about the recent hottest problem for Windows 10 users (actually also happening to users with Windows 8/8.1/7), black screen after login Windows 10/8/7.
It happens so frequently that you can see the reports from users in nearly every relevant forum. Most with mixed up solutions and fixes. We have sorted these solutions and listed all the possible fixes that you may want to try to fix your black screen after login Windows 10/8/7 issue.
Black Screen After Login Windows 7/8/8.1/10 Laptop Desktop PC Fix
Before we begin, you will have to know that many things can cause a black screen. The root causes of your problem might not be the same as the others who have exactly the same black screen after login issue.
It could be due to your defective graphic card (or any other hardware parts such as RAM, CPU or Motherboard), software issue, defective monitor, driver issue, or even just a minor Windows issue. You will have to troubleshoot the problem yourself smartly based on what you see and what you can do.
Windows 10 Black Screen After Login caused by 15.7.1 AMD Catalyst Graphic Driver
Edit: New driver has been released officially by AMD to specifically fix this issue. Go download the new one and your black screen after login problem should be solved, instead of trying to regedit the EnableULPS which doesn't seem to work for most people.
The main purpose of this post is to solve the problem specifically for Windows 10 black screen after login that happens to users who have a AMD (ATI) graphic video card and recently updated their AMD Catalyst graphic driver to version 15.7.1.
This seems to cause black screen after login Windows 10 to all users who updated to the 15.7.1 driver version. Some could still access to Windows after waiting for a period of time before the black screen after login gone, while some would just stuck with the black screen after login and can't do a thing.
Update Graphic Card Driver – Windows 8 Black Screen After Login Windows 10/7
The very first thing you should to is to update your graphic card driver to the latest version if you haven't already done so and see if the problem goes away.
Most of the time problems occur because your graphic driver is outdated and no longer compatible with the new software especially Windows 10 and its programs. Some newly released games would definitely require you to update your graphic driver to the latest version in order to run it.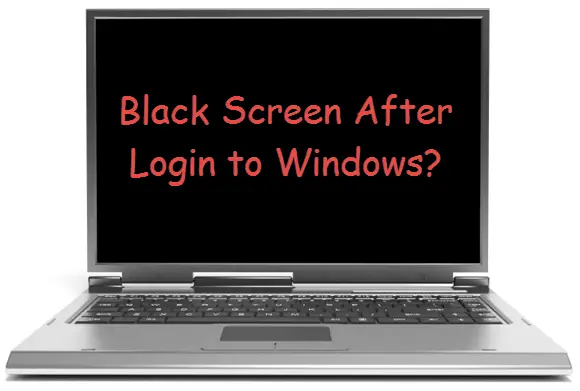 To update your graphic card driver, go to nvidia.com if you own a Nvidia graphic card, or amd.com if you own an ATI card. You don't have to worry about selecting the correct driver version because both of them now have the auto-detect feature that can automatically detect your graphic card model and show you the latest driver for it.
Computer Screen Multi Colored Lines or White lines before Black Screen after login Windows 8/7/10
If you see anything like flickering, fuzzy, colored horizontal or vertical lines (doesn't matter their thickness) appear across your screen when you open your laptop/desktop computer, it most likely indicates that your graphic card has started to fail.
Well, that may not be the case if it's a driver issue. To troubleshoot and find out if it's your graphic card or your driver's problem, the best and easiest way is to:
Uninstall your driver and use the vanilla driver from the driver CD that was given to you when you first bought your graphic card.
Install any old driver you can download from the internet.
Use the driver provided by Windows OEM via Windows Update.
Or simply rollback your graphic driver to the previous working version.
If any driver mentioned above works, it means that it's the driver that you were using caused the black screen after login issue, otherwise it most likely indicates that your graphic card is broken should your screen still showing defective images or multi colored lines after testing with different drivers.
Black Screen After Login Windows 10/8/7 – Try booting into Safe mode
If you are unable to even boot into Windows to test with other versions of drivers or troubleshooting the problem, boot your PC into safe mode.
In safe mode, you can safely uninstall your display driver from device manager. After removing, you should be able to boot into your Windows normally and install whatever driver you wanted to test. Note that you can't install any driver in safe mode because it won't be able to detect your graphic card as it considered turned off in safe mode.