WhatsApp is the world most popular and widely used messenger in the world. Since it's been acquired by Facebook, it grows even larger. WhatsApp was originally made to be used on only mobile and tablet devices. However, using WhatsApp on PC is still possible with the help of Android emulators.
Update: WhatsApp has recently introduced WhatsApp for PC download which allows users to use WhatsApp directly on their webpage regardless if you are on a desktop or laptop computer. In depth guide on how to use the official WhatsApp for PC will be explained below.
WhatsApp for PC Free Download (or Mac) via Bluestacks
As mentioned earlier, android emulator is what makes using WhatsApp or any other mobile app on PC possible. There are quite a number of android emulators available on the market today.
An android emulator is a computer software that acts exactly like an android device. It's basically a virtual mobile device that runs directly from your desktop. It allows you to install app on it like you do on your mobile phone or tablet and makes using WhatsApp on PC possible.
Bluestacks is among the most widely used android emulator you can download and use for free. It's also the most recommended emulator to download WhatsApp for PC. We will show you a simple guide on how to download WhatsApp for PC using Bluestacks App Player.
Download Bluestacks App Player from bluestacks.com. It's available for both Windows and Mac users.
Install Bluestacks. If it shows error during the installation (which happens frequently), check out this page for the most commonly met Bluestacks problem and solution: Bluestacks Free Download Windows 10 8 7 Mac and Error Fixes.
Launch Bluestacks App Player.
Click on the Search icon which usually appears to be the first app. Search for WhatsApp.
You will most likely be asked to sign into your Google account in order to access to the Play Store. Sign in to your Google Account like you did on your mobile devices.
Download WhatsApp for PC and launch it from the Bluestacks home screen.
Enjoy using WhatsApp on PC.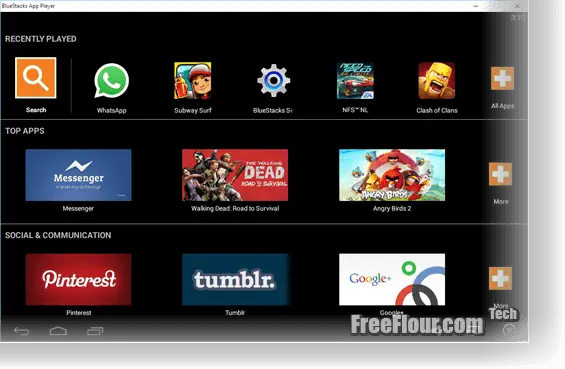 Update: This is no longer the most recommended way to download WhatsApp for PC. Since WhatsApp itself has developed a brand new way for users to use WhatsApp on their PC or Mac computer, you might as well it and save the hassles from installing anything. More info about it will be explained below.
Download WhatsApp for PC Without Bluestacks
However, if you insist not to use Bluestacks due to Bluestacks error that you can't solve or that maybe you just don't like it, you can use other android emulators to download WhatsApp for PC. We recommend Andy android emulator, Genymotion or YouWave as they are all problem-free and free to use.
Update: Since there is already an official version of WhatsApp for PC provided directly by WhatsApp itself, you should only be using the official version instead of android emulators because it's much more simple and safe to use.
WhatsApp for PC Provided by WhatsApp
Since the demand to use WhatsApp on PC is growing significantly, WhatsApp has officially released a web version of WhatsApp which can be accessed directly from any internet browsers on a PC or Mac computer.
For years users have to go through numerous software installing and phone number verification in order to force use WhatsApp on PC. Now you can start using WhatsApp for PC easily on WhatsApp homepage without having to install anything. Here's a simple guide on how to use WhatsApp on PC via WhatsApp home page.
Go to web.whatsapp.com.
You should see a huge QR code with an instruction on how to scan the code with your phone.
On your iPhone, android or any other mobile device that you are currently using WhatsApp on, open up WhatsApp.
Tap on the option icon which usually looks like a 3 dotted vertical line.
Tap on WhatsApp Web.
Point the camera to scan the QR code on the webpage you opened earlier on the monitor of your PC computer.
See the magic happens. Enjoy using WhatsApp for PC.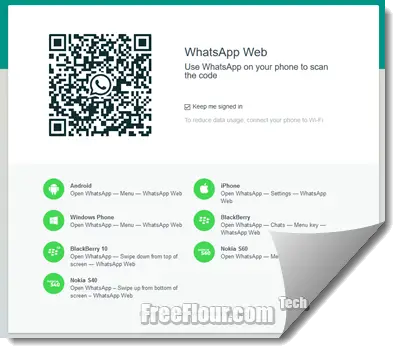 One thing worth noting is that there is an option about Keep me signed in before you scan the code to log into your WhatsApp account. You should only be enabling this option if you are using a private computer (computer of your own) because by enabling keep me signed in option, if you do not log out after you have finished using WhatsApp and switch off your computer, the next time you open up your computer and access the same webpage, your WhatsApp account will automatically be signed in. So, imagine if this option is enabled while you are using a public computer in places like the airport and forget to log out. Any person who use the same computer would be able to chat with your friends on behalf of you.
Download WhatsApp for PC via Wassapp or Any other third party program
Not recommended. Although some programs like Wassapp was once popular, there is no way to prove that your chat data and account will be safe by using these software. People who do businesses and attempt to advertise on WhatsApp would use these programs since they don't care about their account security. Think twice before using any of these third party programs to sign into your WhatsApp account.
The most recommended and safest way to use WhatsApp on PC or Mac is via the official WhatsApp for Web on web.whatsapp.com. Follow and like us on Facebook to be the first to receive latest mobile tips.