Need for Speed No Limits is a free to download and play mobile app game for Android and iOS mobile devices. This guide is to show you how you can also play it on a PC or Mac with a just few simple steps.
Don't get us wrong here. It is totally legal to play Need for Speed No Limits for free both on your mobile phone/tablet or your PC desktop or laptop computer via an android emulator. Need for Speed No Limits is one of the many other Need for Speed games from the Need for Speed franchise by Electronic Arts and is originally made and intended for mobile users. It is free to play with some in-app purchases like most other Android Play Store and iOS AppStore games.
Need for Speed No Limits PC Download Free
Need for Speed No Limits is a mobile racing game very similar to the very popular Real Racing 3 (in fact both of these games have the same developer). It is one of the most anticipated racing games on both android and iOS mostly because of the availability of PvP where you can race against real players.
The competitive environment has became a reason for players to look for a way to play it on PC, mainly because they don't want to keep charging their phones or tablets just to play this (very much battery intensive) game for maybe hours of game play.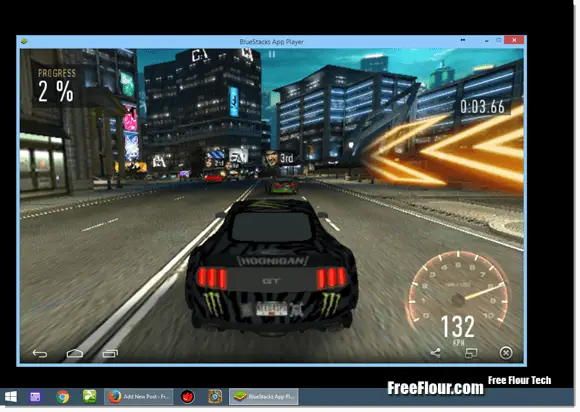 What we are going to do is to run Need for Speed No Limits on a virtual android device we called android emulator on your PC. There are countless android emulators available on the internet. Among the popular ones such as Andy android emulator, Genymotion, YouWave and DuoS, Bluestacks is the most recommended and most used android emulator currently in the market.
Most of these emulators mentioned above are free to use, but a few would ask for a subscription for their premium services. Bluestacks, however, is free to use with a gradual download request for their sponsored apps.
Need for Speed No Limits For PC Free Download via Bluestacks
To begin Need for Speed No Limits PC download, first you would need to download and install Bluestacks App Player.
Install Bluestacks App Player and run it from your desktop. Head to the Search which usually appear as the first app. Search for Need for Speed No Limits. Click Install to begin downloading. If you are asked to sign in to your Google account, do it so you can download the app. It's perfectly safe to login your Google account on Bluestacks. It is a 700mb download. It may that some time and preferably to be downloaded via WiFi. When the installation is done, launch Need for Speed No Limits from the Bluestacks home screen.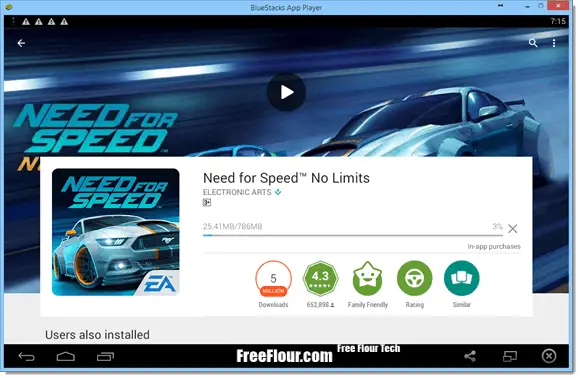 What's New in Need for Speed No Limits PC Download
Apart from the excitements of getting to race with real players anytime you want, another very much interesting feature in Need for Speed No Limits is its ability for players to customize, mod and upgrade their rides as they progress the game and earn in-game currency.
There are wide varieties of racing cars you can choose to play in the game, from Mitsubishi, Subaru to BMW, Porsche, McLaren and many others. The game can be difficult if you are new to mobile racing games. You will need tons of training and a very decent car to be able to challenge and win real life players.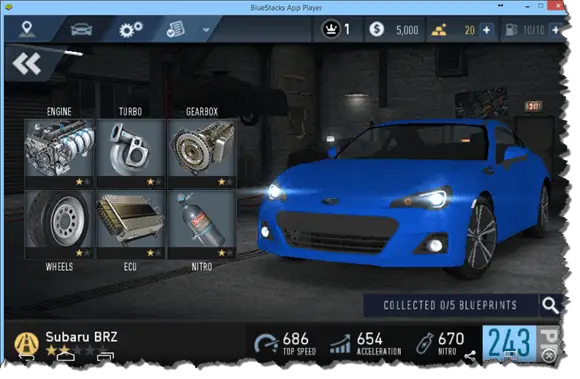 Parts are required for upgrading or customizing your cars. These parts can be collected from winning certain stages or purchased using in-game currencies. Many people complain that the game is really a pay-to-play game because the prices of premium parts are ridiculously high and are nearly impossible to be collected. Well, free games are all like this, aren't they? You should try to enjoy the progresses of the games instead of the their outcomes, otherwise pay and enjoy the outcomes.
The graphics quality of Need for Speed No Limits is pretty decent on a tablet. It is, however, a little bit poor (pixelated graphics) on most smaller screen size smartphones (perhaps due to their limited CPU resources). As for me, the tracks, the cars and the environments look awesome on my Nvidia Shield. If you were previously playing on your tiny smartphones, you may find the graphics to be very different when you play it on Bluestacks.
If you ever lose your save data, uninstall Need for Speed No Limits and reinstall it. Clear the cache of your Google Play Store and Need for Speed No Limits. Also make sure your Google account is syncing properly on your device (because your save will be with your Google Account that was used to link with Need for Speed No Limits). This tends to happen frequently to many players.