Since the recent release of iOS 9.1 final version, people have been striving to jailbreak their newly updated iOS 9.1. So, the question remains, is there a solid jailbreak for iOS 9.1 yet?
After 5 beta releases of iOS 9.1 download, the final version has finally been released to the public. Many have unknowingly updated theirs to iOS 9.1 only to find out that a jailbreak is currently not possible for iOS 9.1. Please read the updates below about iOS downgrading and whether or not Apple is still signing for any old iOS versions before doing anything else.
Jailbreak iOS 9.1 on Mac or PC for iPhone, iPad, iPod Touch – Status Updates
Well, sadly, the jailbreak team and developers are still working for a solid untethered jailbreak. Apparently a browser based jailbreak for iOS 9.1 exists, but like usual it will never release to public until it's confirmed.
We will just have to wait as of now. This page will be constantly updated with the latest news about jailbreak iOS 9.1 for iPhone 6, 6 Plus, iPhone 6s, 6s Plus, iPhone 5s, 5c, 5, iPhone 4s, iPad Pro, iPad Air 2, iPad 3, 2, 1, iPad Mini 4, 3, 2, 1, iPod Touch 6 and 5.
There isn't any significant changes between iOS 9.1 and 9.0.2 other than the new emoji and some bug fixes. We would advise you not to update to iOS 9.1 just yet before jailbreak is available for iOS 9.1. That being said, you should stay away from the OTA software update that will eventually pop up on your iPhone or iPad asking you to update to iOS 9.1.
Well, of course, if you don't mind about your device being not liberated or jailbroken, feel free to update to it and wait for the jailbreak at the same time.
If you have accidentally upgraded to iOS 9.1, your best chance now is to downgrade iOS 9.1 to iOS 9.0.2 immediately before Apple stops signing it. Then, you can jailbreak iOS 9.0.2 using Pangu 9 which was released a while ago. And again, do not even touch the iOS 9.1 update yet before an official jailbreak confirmation is announced (assuming if you rely heavily on jailbreak).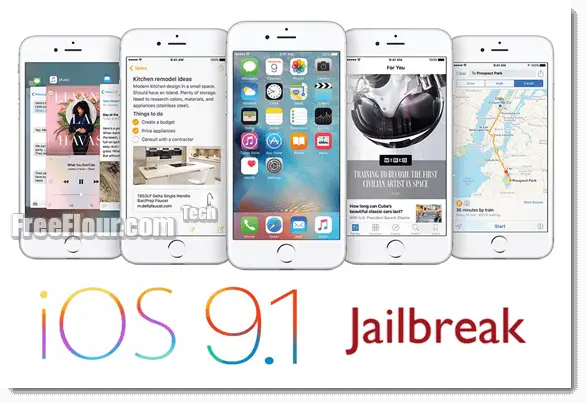 Edit: There is no going back now if you have upgraded to iOS 9.1 from any older version of iOS. Whether you were using iOS 8.4.1, 8.3, 9.0.2 or any older iOS version, you can't do a downgrade anymore as Apple has stopped signing for anything else except the current iOS 9.1 and 9.2 beta. Read more from the Update 1 posted below.
The general rule of thumb when it comes to jailbreak your iPhone or iPad is that you should always make sure the latest iOS version that you wish to upgrade to is jailbreak-able, otherwise STAY away from the update until a jailbreak is officially confirmed.
Why can't I simply update to a new iOS? Why should I wait for a Jailbreak before updating? Well, it's all because of the way how Apple limits users' iOS installation by using the signing concept. Whenever you install, restore, downgrade or update to an iOS version, in order for the process to succeed, Apple needs to sign the iOS you are about to install and that's why you will always need an internet connection for your iTunes to connect with Apple to request the sign. If Apple stops signing for an older iOS version, you will not be able to install this certain version of iOS anymore and you will receive error (such as itunes restore error 3194, 53, 9, 4005) whenever you attempt to restore to this iOS version. So, think twice and triple check before you do an update.
Updates on iOS 9.1 Jailbreak for iPhone, iPad, iPod Touch
Update 1: Apple has officially stopped signing for iOS 9.0.2 or any iOS below it. Downgrading from iOS 9.1 to 9.0.2 is no longer possible. That said, people who have upgraded to iOS 9.1 will not be able to jailbreak their device until the official jailbreak for iOS 9.1 is released.
Update final: It's here now! The Chinese team Pangu has just released a public version of untethered iOS 9.1 Jailbreak. You can finally jailbreak your iOS 9.1 now.
We'll keep you updated and informed in this page as soon as the official jailbreak iOS 9.1 tool is confirmed and released. It will not be far away though and according to some rumors the jailbreak will be released for iOS 9.2 instead (iOS 9.2 beta has already been released to developers and testers).
Follow us on Facebook or Twitter to receive the latest updates on iOS and jailbreak releases. We will be posting any updates as soon as they are available and released. To follow us, click on the FB like button beside my name below.