Jailbreak for iOS 9, 9.0.2 and 9.0.1 is finally here by Pangu team with their jailbreak software called Pangu 9 exclusive for iOS 9 jailbreak on your iPhone and iPad.
A little history of how the unbreakable iOS 9 turned breakable. After the releasing of the golden version of iOS 9 that had patched all possible exploits and vulnerabilities that could be used for jailbreak, a team known as ZERODIUM announced 1 million dollars for anyone who can jailbreak iOS 9. After a month of the release in mid of October, Pangu, a prominent Chinese jailbreak team, finally release a public version of iOS 9 untethered jailbreak.
How to Jailbreak iOS 9, 9.0.2 iPhone and iPad on Mac or PC
You will need to first download the Pangu 9 jailbreak tool for your computer OS. Pangu, unlike the old jailbreak tools that were mostly made only for PC, has a version for Mac.
So, here are the Pangu 9 jailbreak tool download links for PC and Mac.
Pangu 9 iOS 9 jailbreak for Mac OS X (downloads removed due to unusable link).
Pangu 9 iOS 9 jailbreak for PC.
We assume that you have already upgraded your iPhone or iPad to iOS 9.0.2 or 9. If you haven't already, read iOS 9.0.2 IPSW Download and how to install.
Plug and connect your iPhone or iPad to your PC or Mac. Launch Pangu 9. It will detect your device and the iOS version automatically. If your device is supported for iOS 9 jailbreak, there will be a Start button you can click on to proceed.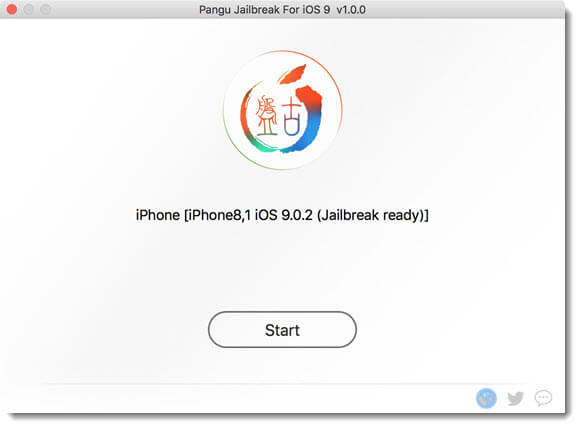 Just follow the on-screen instructions to complete the jailbreak. The procedure should be pretty straight and simple. You will be asked if you have already backup your device. Do a backup immediately before you begin just in case if it goes wrong.
It should take about 10 mins for the jailbreak to complete. Reboot your iPhone and it should be jailbroken. Thanks to Pangu team.
Jailbreak iOS 9 Pangu supports iPhone 6,6s Plus,5s,5c,5,4s,iPad Air 2,iPad Mini,iPod Touch
Below is a list of all the currently supported iOS devices for Pangu 9 iOS 9, 9.0.2, 9.0.1 untethered jailbreak.
Supported devices for Pangu iOS 9 Jailbreak: iPhone 6, 6 plus, iPhone 6s, 6s plus, iPhone 5s, 5c, 5, iPhone 4s, iPad 4, 3, 2, iPad Air 2, 1, iPad mini 4, 3, 2, 1, iPod Touch 6 and 5.
A piece of advise is to immediately do a full Cydia upgrade after you've completed the iOS 9 jailbreak. Many people have been having problem with Cydia crashing and even bricking their device after the jailbreak.
Also remember that an iTunes backup of a newer iOS version will not be backward compatible with any iOS version older than itself. To do a backup in this situation, your best chance is to sync anything you can to iTunes and do a re-sync when you have done upgrading.
Always check if the iOS version that you want to upgrade to is jailbreak-able yet because once you upgraded you will most likely no be able to downgrade if Apple stop signing your current iOS version. This is very important if you rely on jailbreak for your daily works and businesses.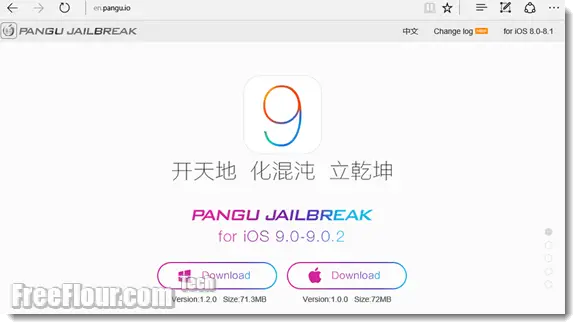 Update: Now that Apple has stopped signing for iOS 9.0.2 or any iOS below it, you will no longer be able to install, upgrade or downgrade to iOS 9.0.2 or iOS 9. Thus, downgrading from iOS 9.1 to iOS 9.0.2 will no longer be possible. The only iOS you can upgrade to is the iOS versions that Apple is still signing at the date you are reading this.
So, if you are now with iOS 9.0.2, 9.0.1 or 9, do not upgrade to iOS 9.1 yet before you make sure it's available for jailbreak. As of now, you can use this jailbreak guide if and only if you are already using iOS 9, 9.0.2 or 9.0.1 now. General rule of thumb is to check whether the latest version of iOS is jailbreak-able, otherwise stay whichever your current iOS version is if you rely heavily on jailbreak.
Follow us on Facebook or Twitter to be the first to receive latest updates on all iOS and jailbreak releases as soon as they are available. To follow us, simply click on the like button beside my name below.