iOS 9.0.2 is yet another minor update release mainly to fix bugs and stability issues found in its predecessors iOS 9.0.1 and iOS 9.
If you are upgrading to iOS 9.0.2 from iOS below 9, the major changes that makes iOS 9 shines is the boosted Siri that is now 40% more accurate and 40% more quicker than before. Siri can also work with your photos and videos now. For instance, you can ask Siri to show you Videos taken in Texas and it will then show you all videos you have taken in Texas on a well organized list. You should start using Siri if you haven't already.
iOS 9 will now intelligently read your daily routines of what you do on your iPhone, which contacts you have added, who you recently contacted the most, and suggest you with the apps that you have used most commonly at the very right time and contacts that you will most likely be in touch with based on your daily routines.
How to Download iOS 9.0.2 IPSW and install on iPhone, iPad or iPod Touch
There are basically only two ways to update your current iOS device to iOS 9.0.2. A clean install using iTunes restore or direct update via OTA (Over the air) update from your device.
The elite iOS users will always recommends to do a clean install whenever there is an update because OTA update tends to always have some minor performance issue. The performance issue is not significant and if this doesn't matter matter to you, an OTA update is the much easier way to update your iOS 9.0.2.
To do a clean install for iOS 9.0.2, you will have to first download and install the latest iTunes and make sure it's of the latest version in order for it to recognize your iOS 9.0.2 IPSW file. Next, download the iOS 9.0.2 IPSW that matches your device model from the download list below. After that, immediately do a backup via iTunes or simply sync all your data and files before you proceed.
To begin the clean installation, plug and connect your iPhone or iPad to your PC computer or Mac. Open iTunes and then select your device. There should be a button for "Restore iPhone" shown in the right panel of iTunes. For PC, hold Shift and left click on it, or hold alt and left click for Mac. Browse to the directory of where you saved your download iOS 9.0.2 IPSW file and select it. The restoration process will then begin automatically. It should take for about 5 to 10 mins and you will be good to go.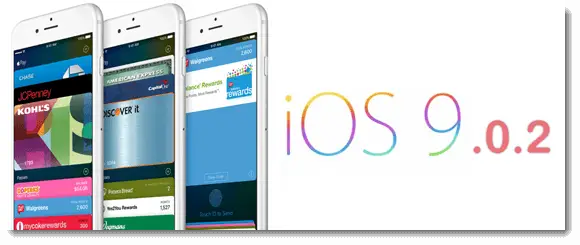 For OTA update, simply go to Settings, General, Software Update on your iPhone or iPad. Select Update Now to begin the update automatically. You should only do this if you are on a WiFi network. It is a huge update of about 1.2 GB that would cost you some dollars if you are using your mobile telco data network.
iOS 9.0.2 Download link IPSW for iPhone, iPad, iPod Touch
Listed below are all the iOS 9.0.2 IPSW download links tailored for the listed devices respectively provided by Apple officially. Select only the IPSW file that matches your iOS device model otherwise it wouldn't work if you have an IPSW file that is different from your model.
CDMA or GSM, WiFi only or Cellular included, are both as important to identify your device. You will have to find out which category your iOS device falls into and select the correct one to download.
Update: Apple has officially stopped signing iOS 9.0.2 and thus, installing, restoring or downgrading to iOS 9.0.2 is no longer possible. The only iOS version you can upgrade to is the latest iOS version that Apple is currently signing at the date you are reading this guide.
If you have already installed iOS 9.0.2, do not update it to iOS 9.1 yet because it is not jailbreak-able now. We will keep you updated and informed as soon as a new iOS Jailbreak is released. Follow us on Facebook (Like button beside my name below) to be the first to get the latest updates on all iOS and jailbreak releases.