It's been quite some times since iOS 9.2.1 was released. Now Apple has just released the final version of iOS 9.3 after a huge amount of beta testing since January this year. iOS 9.3, as promised by Apple, brings in a whole new level of improvements and new features.
iOS 9.3 is made available for iPhone 6s, 6, 6s and 6 Plus, iPhone 5s, 5c, 5, iPhone 4s, iPhone SE, iPad air 1, 2, iPad Pro, iPad mini 1, 2, 3, 4, all iPad models except the first generation, and iPod Touch 5th and 6th generation. iOS 9.3 download links for IPSW files can be found below.
What's new in iOS 9.3 Download
The most awesome feature is of course the newly introduced Night Shift feature that uses your iOS device geographical location to automatically shift your device display's hue, for example, to the warmer side of the spectrum based on sunset times in your location. If you often heavily use your device right before bed time, this will certainly help you to sleep better as it counter the intake of blue light without Night shift.
Another feature worth noting is the introduction of bio-metric and password protection for the Apple stock Notes app to allow users to secure their notes. Other than these mainstream features, the rest are just minor improvements in the Notes, News, Health and Apple Music app, and of course, bug fixes.
Before you attempt to update to iOS 9.3, if you rely on jailbreak, double check if iOS 9.3 is jailbreak-able at the time you read this. As we are writing this, the latest jailbreak available is the recently released Pangu iOS 9.1 Jailbreak.
If you are using iOS 9.1 and is looking for a way to downgrade iOS 9.3 to iOS 9.1 for jailbreak, stop looking as there is no longer possible to downgrade to iOS 9.1 anymore after Apple stopped signing for it. Stick with iOS 9.1 if you are the lucky one who are still holding with it, otherwise if you don't bother about jailbreak, it's worth having the new features and enjoy the new improvements available in iOS 9.3.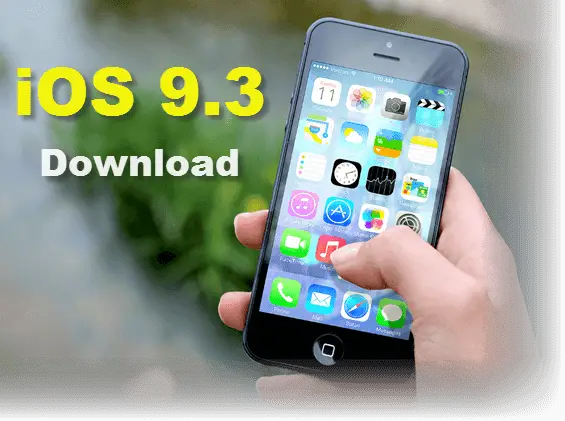 Download iOS 9.3 IPSW Link for iPhone, iPad, iPod Touch
Below are a list of all iOS 9.3 IPSW download links according to supported models. You can restore it via iTunes on your Windows PC or Mac (remember to backup first). Select only the model that match exactly to your iOS device otherwise it won't work when you try to upgrade or restore it on iTunes.
Link removed due to iOS expiration.
You may want to check out on this post for latest status update on iOS 9.3 Jailbreak, and things you should know about downgrade iOS 9.3 to iOS 9.1 and what you can do to secure a future jailbreak for your device.
Update 1: iOS 9.3.1 download has just been released to fix a major issue about device went unresponsive, hang or even crash when links are tapped on.
Update 2: Apple has officially stopped signing for iOS 9.2.1. Downgrading to iOS 9.2.1 now is no longer possible.