It's not surprising that users have found bugs this early in the newly released iOS 9.3 and now Apple releases iOS 9.3.1 download for all the bug fixes. It's not entirely a major update but it fixes a pretty heavy bug that causes the screen to hang which were not found during all the 6 beta phases.
iOS 9.3 download was released not long ago introducing a few fantastic features with some major improvements on existing stock apps. It was all good until this bug has cause a major issue for a portion of users and the problem immediately gone viral. iOS 9.3.1 download is an urgent fix Apple released to make sure users no longer suffer from such a silly bug.
What you need to know before upgrading to iOS 9.3.1
If you are an existing iOS 9.3 users, this is certainly a good to go upgrade since the issue is quite popular especially among the tablet groups.
This bug happens when users install a certain app and it would cause the device to crash, freeze, unresponsive or just hang when links were tap in Safari or some other apps.
If you are new to iOS 9.3 and are looking to download iOS 9.3.1, be warned that as of the date this post is written, iOS 9.1 is currently the latest jailbreak-able iOS version. If you rely heavily on Jailbreak, since downgrade iOS 9.3.1 to 9.1 is no longer possible (because Apple has stopped signing for iOS 9.1 very long time ago), you should stick with iOS 9.1 and enjoy the jailbreak.
If you are with iOS 9.2.1 or iOS 9.2, it's also better to stick with them just in case when a jailbreak for only these iOS is made available in the future. You may also want to downgrade iOS 9.3 / iOS 9.3.1 to iOS 9.2.1 to secure a jailbreak as soon as it's released.
If jailbreak is not your concern, go ahead and update to iOS 9.3.1 now for the awesome features.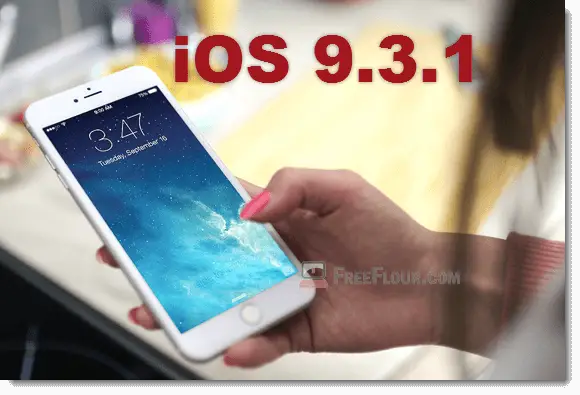 At the time this post is written, there is currently no jailbreak available for iOS 9.3.1 yet and will not be available any time soon as the jailbreak teams are still struggling with iOS 9.2.1 exploits and stuffs. But there is still a chance that they can find an exploit in iOS 9.3.1 or 9.3 instead.
How to update to iOS 9.3.1 with the iOS 9.3.1 download IPSW link
The default and the most convenient way to upgrade to iOS 9.3.1 is via the Apple on-the-air update directly from your iPhone.
To update this way, simply accept the update when the usual update notification pops up to you, or go to Settings, General, Software Update. Be warned that updating on your phone involves downloading the firmware (which usually are huge in size) directly on your phone. So, it is advised that you run this only under WiFi connection to avoid mobile data charges.
However, the preferable way to update an iOS is by restoring it on iTunes.To update manually via iTunes, download iOS 9.3.1 IPSW file with the code that match exactly your iOS device model and install the latest version of iTunes. Connect your device to your Windows PC or Mac. Launch iTunes and let it detects your device. Backup your device with your preferred method, preferably syncing your device data, photos, apps, etc and create an iTunes backup copy. To begin restoring, click on your device, shift + click on the restore button and browse to the newly downloaded iOS 9.3.1 IPSW file. Select it and let the update to run itself.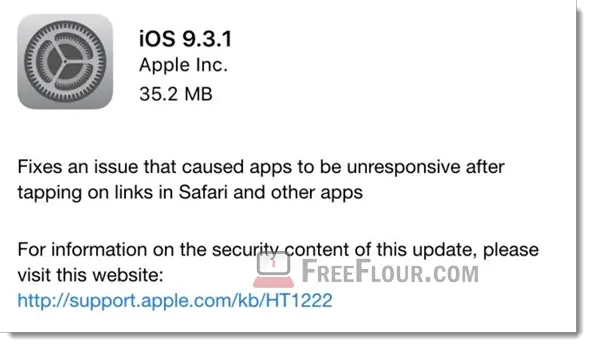 iOS 9.3.1 Download links (IPSW) for iPhone, iPad, iPod Touch
Listed below are all iOS 9.3.1 download links in IPSW file format according to their respective iOS device model. Select only the one that matches your iPhone or iPad model otherwise iTunes won't recognize it and thus failing the restore process.
Link removed due to iOS expiration.
Check out on this post for our latest status updates on iOS 9.3.1 Jailbreak. Also, if you need more explanation and clues about downgrade iOS 9.3.1 to iOS 9.1 for jailbreak purpose, check out this post. Our guides cover all devices including iPhone 6s, 6, 6s and 6 Plus, iPhone 5s, 5c, 5, iPhone 4s, iPhone SE, iPad air 1, 2, iPad Pro, iPad mini 1, 2, 3, 4, all iPad models except the first generation, and iPod Touch 5th and 6th generation.
Update 1: Apple has stopped signing for iOS 9.2.1 soon after iOS 9.3.1 was released, thus making downgrading iOS 9.3 or iOS 9.3.1 to iOS 9.2.1 no longer possible.