Before you looking elsewhere for Windows 10 free download full version or an ISO format installation, you have to understand that Windows 10 is now only available for direct update from Windows 7, 8 or 8.1. However, you can still create a bootable full version of Windows 10 ISO, USB or DVD for free.
Microsoft doesn't offer any direct download for Windows 10 on its website, unlike most of its predecessors which can mostly be downloaded directly from Microsoft.com when you own the license. So, how do you upgrade to Windows 10, or possibly create an ISO, USB or DVD out of it?
Windows 10 Free Download Full Version
Windows 10 is now officially free if you upgrade to it from your current Windows 7, 8 or 8.1 before 29 July 2016. After the offer's expiration date, the very basic Windows 10 Home edition will cost £99.99 or $119.99 for an upgrade or purchase of its DVD or other forms of installation ($199.99 for Windows 10 Pro).
This particular offer also comes with a Life time license for free which also means that you will never need to renew your Windows 10 license for any price after the upgrade (unless of course if another newer version of Windows is introduced in the future).
Since Microsoft is so keen on us using its latest product for free, you might as well just accept the offer and upgrade now before the deal closes in July this year.
It's also worth noting that this offer only applies to upgrades from current Windows 7, 8 and 8.1 original genuine license holders. You will not receive any Windows 10 upgrade notification in Windows Vista or any version older than that.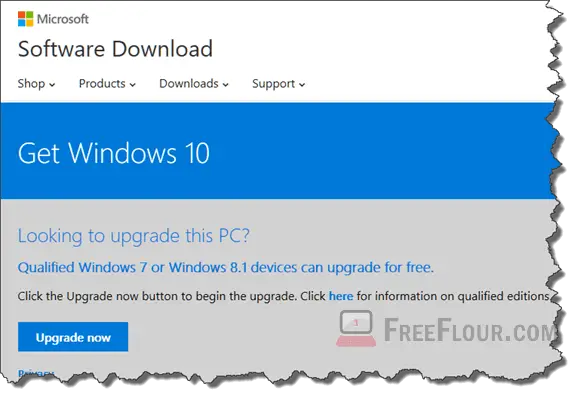 You can upgrade to Windows 10 from Windows 7, 8 or 8.1 by simply clicking the upgrade now button when Windows notify you about the free Windows 10 upgrade.
Windows 10 Free Download Full Version in ISO, DVD or USB format
Other than pressing the upgrade button offered in Windows Update, how else can you get your hands on Windows 10? Well, first you will need to download the Windows 10 media creation tool.
Media creation tool is a tool created by Microsoft for users to easily upgrade or install Windows 10 on their computers. With the help of media creation tool, you can actually create a Windows 10 ISO installation file or a bootable Windows 10 installation USB drive.
You can download Media creation tool from this page. Scroll down and look for the download tool now button to download the media creation tool.
Open it. You will be shown two options, upgrade this PC now or create installation media for another PC. Select the latter and click Next. If you want a different architecture for your Windows 10, either 64x, 32x or both, untick the "use the recommend options for this PC" and choose your desired architecture for your Windows 10 installation. Click Next.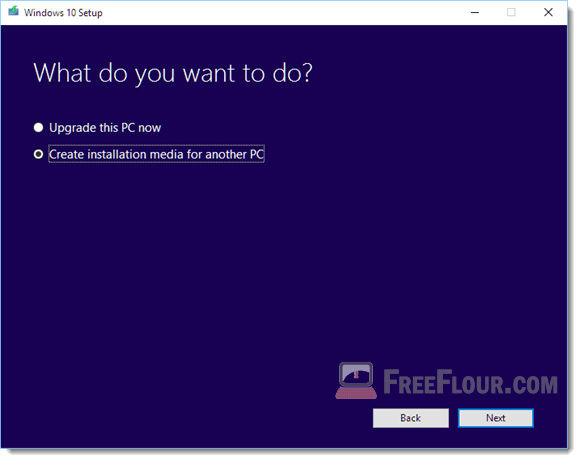 You will have another two options to either create bootable USB Windows 10 installation flash drive (you need at least 3 GB free space on your flash drive), or create an Windows 10 ISO installation file that can be burned onto a DVD later.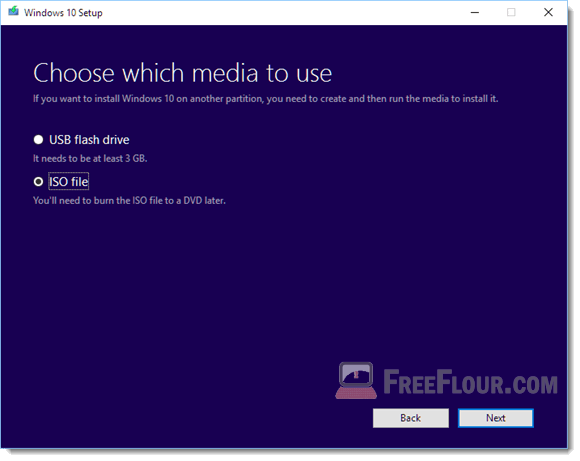 Select whichever you desired and hit Next. Media creation tool will then begin downloading the required installation files and automatically create the form of installation you have selected earlier.
When it's done, you can begin to install the Windows 10 on whichever PC you desired. Another thing worth noting is that whenever you use this ISO or USB installation to install Windows 10, it will require you to enter a valid product key of Windows 7, 8, 8.1 or 10 during the installation process.
Windows 10 edition vs previously own Windows edition
The edition of Windows 10 you will get is based on the edition of Windows 7 or 8 you are currently using. For example, you will be automatically offered Windows 10 Pro if you are to upgrade from a Windows 7 Professional PC.
The table below shows all the editions of Windows 7/8/8.1 vs their entitled Windows 10 editions.
Windows version before upgrade
Windows 10 edition
Windows 7 Starter
Windows 7 Home Basic
Windows 7 Home Premium
Windows 8/8.1
Windows 8.1 with Bing
Windows 10 Home
Windows 10 Home
Windows 7 Professional
Windows 7 Ultimate
Windows 8 Pro
Windows 8.1 Pro
Windows 8/8.1 Professional with Media Center
Windows 10 Pro
Windows 10 Pro
Windows 8/8.1 Single Language
Windows 8 Single Language with Bing
Windows 10 Home Single Language
Windows 8/8.1 Chinese Language Edition
Windows 8 Chinese Language Edition with Bing
Windows 10 Home China
Fake Windows 10 Free Download Full Version via torrent or file hosting sites
Be especially careful with all these downloads as they are all illegal and mostly fake. Fake as in it looks like a legit torrent with reasonable file size behind a zip or a direct exe executable file that is not the thing you want.
Most of these Windows 10 torrent free downloads are injected with Trojan horses or malwares that seek to infect your computer and steal away your important data. One of these harmful torrents has already went viral and hurt a lot of people. Why download pirated one when Windows 10 is now officially free to upgrade?
We strongly oppose and discourage the illegal downloads of Windows 10 via torrents or file hosting sites such as mediafire, 4shared or rapidshare.