This entry will show you where you can download WinRAR 64 bit or 32 bit free offline installer for Windows 10/ 8 / 8.1 / 7 PC or Mac computer.
Here's a short description of what WinRAR does, if you don't already know: WinRAR has been around for over 15 years and remains the most popular compression software in the world. It helps to compress, encrypt and package your files. It supports both RAR and ZIP file extensions.
Download WinRAR 64 bit 32 bit for Windows 7 / 8 / 10 and Mac
Listed below are download links for currently latest version of WinRAR for 64 bit and 32 bit Windows PC and Mac.
Download WinRAR 64 bit for Windows 10/8/7 version 5.40
Download WinRAR 32 bit for Windows 10/8/7 version 5.40
Download WinRAR Mac OS X version 5.40 – command line only
We will continue to update this post and bring you the download links for latest version of WinRAR. In the mean time, you can check rarlab.com/download.htm for latest WinRAR version downloads just in case if we miss things out.
The WinRAR download links listed above are all unmodified and sourced directly from official WinRAR producer – rarlab.com.
Although they are listed as trial (which are free to use), there isn't any noticeable difference from paid version. There is no restricted functionalities or whatsoever for paid users. Everything is free in WinRAR. The only difference is that it will show you a welcome pop up with a buy now button the first time (and every time you restart your PC) you open it. Just simply close the pop up to continue using it.
Of course, it's always a good thing to pay for it to show your support to the software developers if you find WinRAR to be really useful for you. Besides, you also get to access to their customer support should you have any problem with WinRAR.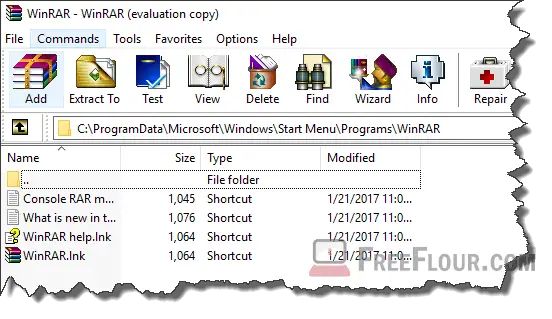 How to use WinRAR in Mac OS X via command line only
WinRAR for Mac OS has always been command line version only. It means that there is no graphical interface for you to use the software. You can only use WinRAR via command on your Mac.
Here's a simple guide on how to use WinRAR in Mac via command line.
Access to the command line interface in Mac OS X by going to Applications > Utilities > Terminal.
Change directory to the folder containing the files you want to zip or RAR (archive). You can do this by using "cd" command. For instance, cd ~/Desktop/ to change the directory to your desktop.
Type rar a folder_name rar_name.rar. Replace folder_name with the directory name of which you want to archive. Replace rar_name with anything you want to name the rar file once it's archived.
To unrar or unzip, type unrar rar_name.rar. It will then uncompress rar_name.rar to the directory.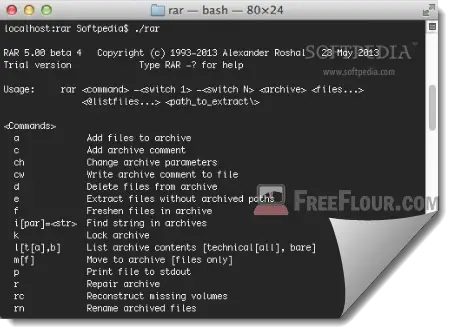 Download WinRAR for Android for free
Now you can also archive files and folders in your Android devices by using the newly released WinRAR for Android.
Unlike WinRAR for Mac OS X, WinRAR for Android has a graphical interface for users to easily use it. You can download WinRAR for Android directly from Google Play.
You can also download the latest WinRAR for Android apk from rarlab.com/download.htm. They are all labeled as free to use.
Some side tips for utilizing WinRAR
Other than just archiving your files, you can also use WinRAR to password protect them. To do this, after you have created an archive using WinRAR, open the rar file. Press CTRL + P and then set your desired password. The next time someone opens this rar file, it will request the password before they can see what is inside and unzip.
WinRAR can also help separate a huge file into multiple smaller files for purposes such as to be able to fit into limited space like a USB flash drive. To do this, when you add something to archive, in the Split to volumes sizes field, enter your desired size for each smaller files to be created.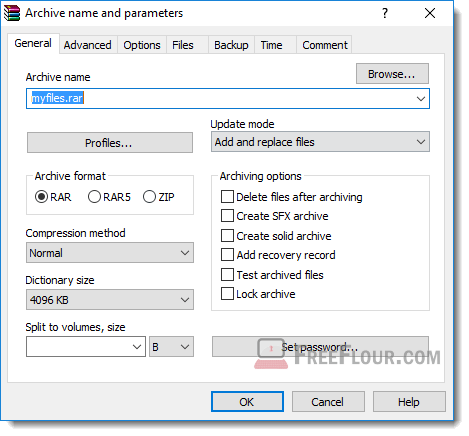 Stay away from WinRAR cracks
You may have heard of cracking software. Crackers illegally exploit and modify paid software to make it usable for free and distribute it to the public.
Most of these cracked software contain malware or viruses that can potentially harm your computer and may expose yourself to the risk of getting hacked. Cracked WinRAR is no different than any of that. Some crackers have ways to track what you have been rar-ing or zipping with their modified WinRAR and steal your info whenever they want if you use their crack.
Stay away from all kinds of cracked WinRAR. Do not download WinRAR from unreliable sources. After all, WinRAR is already a free to use software with just a purchase option solely for the purpose to support their development team. There is no reason to use cracked WinRAR and it's actually illegal to use any cracked software.