This post will show you everything you need to know about Google's Project Fi – how it works, how to sign up for Project Fi in your area, Google Fi on iPhone, what devices and which countries are supported, etc.
How Google's Project Fi Works
The next generation cellular network, Google Project Fi, is a paid network service newly introduced by Google. It works just like any other cellular network but with extra stunning benefits.
It too provides unlimited domestic calls, texts, and data. On top of that, what makes Project Fi so tempting is that as you move with a Google Fi enabled phone, it automatically finds and detects all available WiFi, 3G or 4G LTE networks around you, and connects you to the fastest available network, throughout the world in 135 countries without any extra roaming fees. If you often travel around the world, it's like a dream comes true. Here's a list of all countries that support Project Fi – https://fi.google.com/about/rates/.
There are basically two simple plans Project Fi offers – The basic $20 and the family $15 plans. Each basic can have up to 5 family plans associated to it. The prices of the plan do not cover data usage. Each GB will cost $10. However, excessive unused data every month will be credited in the form of money back to your account. For $10 per GB with all these benefits and coverage it's probably the cheapest data plan in the US.
Google's Project Fi supported devices
At this moment, Google Fi supports only a few Google-made Android devices – Pixel XL, Pixel, Nexus 5X, Nexus 6P, or Nexus 6. You will need one of these devices in order to use Google Fi.
The Pixel and Nexus are the first phones that have the state-of-the-art cellular radio capable of supporting multiple networks and across other network types. They are the only devices that work with Google Fi SIM card.
That said, you can't use Google Fi on an iPhone or other android devices such as a Samsung Galaxy which is not supported. You can purchase the Pixel or Nexus smartphone directly from Google Fi (monthly installment plan included). It will be shipped along with the Google Fi SIM card to you. You can then start using Google Fi as soon as you get the device.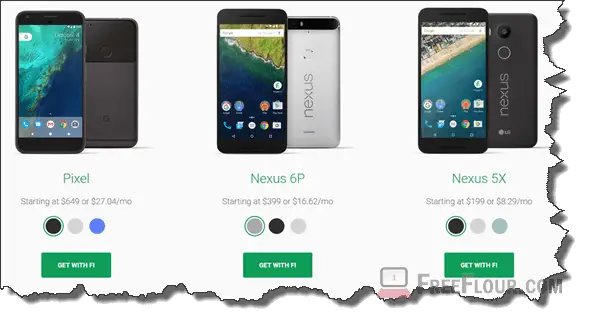 Google Project Fi on iPhone or other Android devices?
However, it's still possible use Google Fi on other unlocked Android devices (or possibly iPhone) with some workarounds and limitations. Here's a rough idea of how you can make it to work.
After signing up for Google Fi and getting the Fi SIM card, you will need to at least activate it once on a Fi supported device – the Pixel or Nexus. Once activated, you can move your SIM card over to another android smartphone or tablet and start using it. The limitations are that it can only detect T-mobile, not the Sprint or the US Cellular network. You also won't be able to use the seamless WiFi calling Google Fi originally offers. You will need to install Project Fi app by Google in order for Fi to search and connect you to the fastest available data network or WiFi.
As for Google Fi on iPhone, since only the new iPhone 7 and 7 plus have the cellular radio hardware capable enough to support the Fi SIM card, it's possible to use Google's Project Fi on iPhone. You will still need to activate your Project Fi SIM card once on a Pixel or Nexus before you can start using it on an iPhone. Besides the few limitation mentioned above, Google Fi on an iPhone will not be able to switch across network types because you can't install the Google Fi app on iOS. Google Fi app is made solely for Android.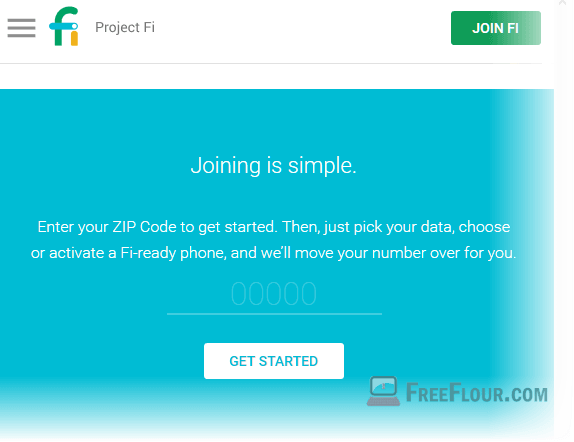 How to sign up for Google Fi
Google Fi is currently only available for users in the US. There is no official announcement from Google about expanding Google Fi to other countries in the future. So, only people from the US can sign up for Google Fi at this time.
Here's how to sign up for Project Fi.
Go to http://fi.google.com.
At the top right corner of the page, click on Join Fi.
In the next page, select Use this account if you have already logged in a Google account.
Otherwise, click on Create a new account and sign in to your existing Google or Gmail account.
Enter your ZIP code.
Pick your desired data plan.
Your Google Fi SIM card will be shipped to you.
Activate your SIM card in a Pixel or Nexus.
Some basic requirements include a need of a US home address during the registration, and you have to be 18 years old or older.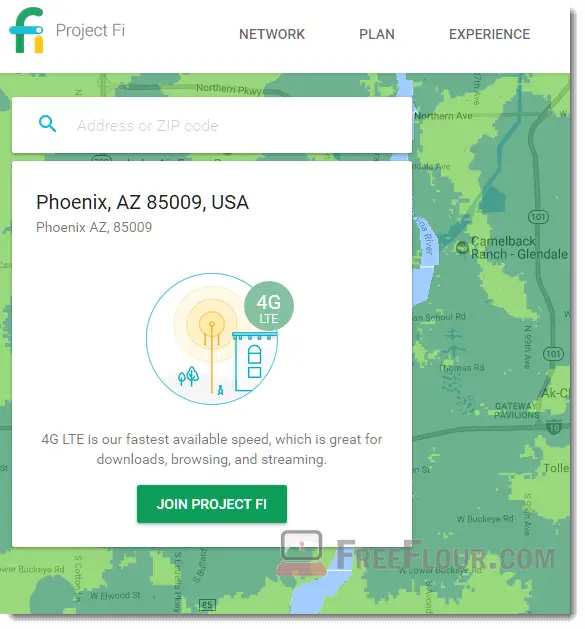 Some ZIP codes in the US are still not covered yet. You can check coverage at this page https://fi.google.com/coverage. Simply enter the ZIP codes where you currently located at and it should show you whether it's Fi covered and the types of data network available in that particular area.
How to sign in to Google Project Fi to check your bill and usage
If you have family plans associated with your main basic account, you can check your bills and usages all at once by logging into your Project Fi account, instead of waiting for physical bill to mail to you every month.
Here's how to sign in to your Project Fi account.
Go to https://fi.google.com.
Click on Sign In on the upper right corner of the page.
Sign in to your Google account which you used to sign up for your Project Fi account.
Things you need to know about Google Project Fi
Here's several important info you may want to know before switching to Google's Project Fi.
You can bring your existing number and transfer it to your Project Fi account.
Currently Project Fi is partnering with T-Mobile, U.S. Cellular and Sprint.
If you already have an existing Pixel or Nexus, you can sign up for Project Fi and get the SIM card shipped to you for free.
You can terminate Google Fi any time and there is no termination fee or penalty on this.
Group plan works this way: If you have a basic plan, the next plan you add to your account will be counted as a group plan, which cost only $15.
If you need more specific help, you can contact them here.