This post will show you how to fix the issue "Gmail is having trouble with Google Play Services" or stuck at "Getting your messages" error when you open Gmail on your Android device.
It's reportedly showing up most commonly on OnePlus 3t, Samsung Galaxy s7 s6, Galaxy Note 6 5, Xiaomi mi5 mi4, Redmi Note 4 3, HTC one 10, Moto Z, ZTE Axon, Huawei Mate and Nexus 6p, running Marshmallow (6.0), Lollipop (5.0), KitKat (4.4) or Jelly Bean (4.1).
Gmail is Having Trouble With Google Play Services Fix
The error Gmail is having trouble with Google Play Services most commonly happen when you have just flashed a custom rom, restoring from a backup, reset your phone, cleared your cache, or any action that causes Google Play services to fail syncing.
You may also see another similar phenomena where Gmail shows getting your messages with a loading bar which never stops, constantly loading and seems to be stuck forever.
The solutions for these matters may vary depending on which device you are using and what event causes it to happen. However, if you have a full backup of your phone's data, you can try each one of them til one fixes your problem.
As always, do a full backup of your phone before you proceed trying solutions below.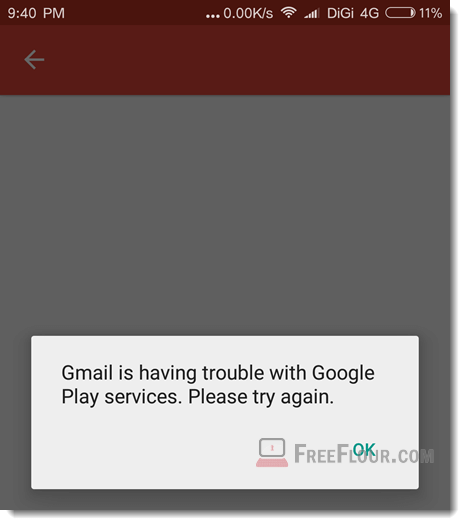 Clear data for Google Play services
If you have done things that could cause conflicts between Google Play services and Android system such as updating a firmware or resetting your phone, clearing its data may solve the issue.
However, clearing data for Google Play services may disrupt other apps which rely on it. For instance, you may have to re-login your app which uses Google Play services as a sign in gateway.
But we believe this shouldn't do any noticeable harm to your apps by clearing Google Play services data. Should any disaster happen after clearing the data, restore your android from backup you have created earlier.
So, here's how you can clear data for Google Play Services.
Go to the Settings app on your android device.
Scroll down and look for Apps or Installed Apps.
Tap on All at the top to show all apps you have installed.
Scroll down to look for Google Play Services. Tap on it.
Tap Clear Cache, Clear Data or Clear Cache and Data (varies from devices to devices).
Restart your phone.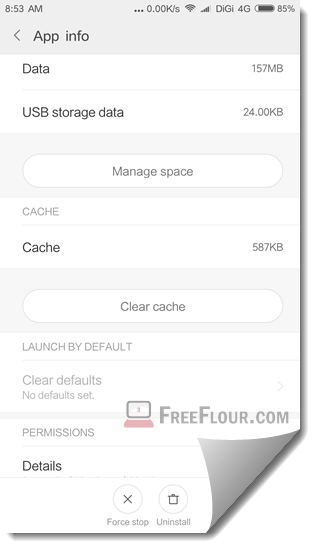 Now, try to access Gmail again and see if the error persist. Proceed to the next fix if the error is still showing up.
Uninstall Google Play Services and Reinstall it
If everything fail to sync from your phone to any of your Google accounts, and even clearing its data doesn't work, uninstalling and reinstalling Google Play services may help.
Here's how to reinstall Google Play Services.
Go to Settings app.
Go to Installed Apps or Apps.
Tap on All.
Look for Google Play services and tap on it.
Tap Uninstall Updates or Uninstall.
Tap OK to proceed.
Reboot your device.
This step can be a little different on each device.

By default, after rebooting your device, your android will automatically reinstall and update your Google Play Services if you have a Google based firmware or ROM.
If it doesn't, go to here on your device to install Google Play services.
If you have a specific phone running on firmware that don't originally have Google Play Store or Google Play services, you have to install them by installing their APKs. Go to apkmirror.com on your device and search for Google Play Services. Download its apk and run it. Make sure you allow Unknown Sources installation option from the developer options.

Reboot your device again once installed.
Open Gmail and sign into your Gmail account. It should now start receiving emails and messages.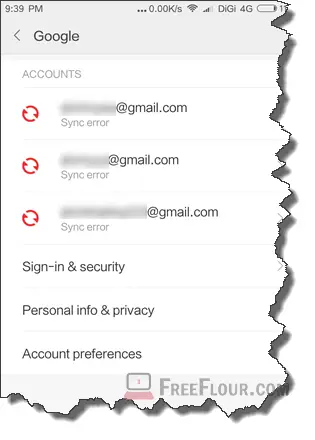 Factory Data Reset your Android device
This should only be the last resort and only be used with extreme caution as it would cause a wipe off of all your current data, files, photos and everything else on your device.
You must do a full complete backup of your phone before you reset your device. Factory resetting an Android device means to restore it to its default state – exactly how it looks like when you first purchase and switch on your phone. You can restore your backup afterward.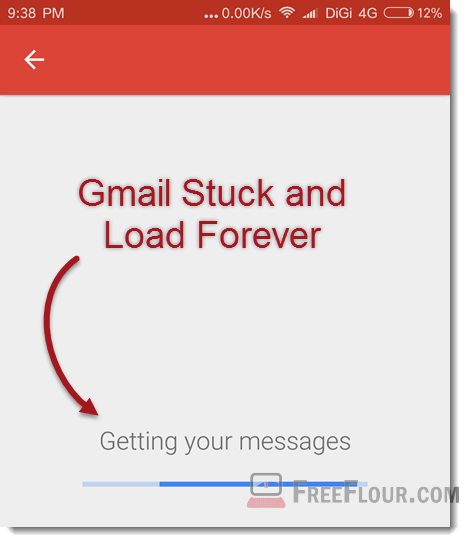 There are basically two ways to factory reset your phone. The easiest method would be to go to your Settings app > Backup & reset > Factory data reset.
However, it's recommended that you use the following method instead, provided if you have a custom recovery on your device and know how to boot it into recovery mode.
Boot your phone into recovery mode.
Select Wipe Cache Partition. This will wipe all the cache and data of all apps in your device.
Reboot your device and try launching Gmail to see if the problem persist.
If the error is still there, boot your phone back to recovery mode again.
Select Wipe data/Factory Reset.
This should reset your phone to its factory defaults.