When you plug in a USB flash drive, thumb drive, iPhone, android phone, dell tablet, keyboard, mouse, memory reader, webcam, or whatever else that relies on an USB connection, if it's not functioning well or not recognized by Windows itself, Windows 10 will show you the error "USB Device Not Recognized error code 43" in a popup balloon near the taskbar of your desktop.
When this happens, it can be due to several reasons (does not necessary always mean that your device is corrupted or broken). We have listed all possible causes for the USB device not recognized error (with the following description: The last USB device you connected to this computer malfuntioned, and Windows does not recognize it).
USB device not recognized Windows 10 – Check device's driver
The very first thing you should check is if your device's driver is properly installed. It's especially important if you have a rare device that isn't common in the market.
Yes, it's also true that Windows 10 already has a driver recognition mechanism that automatically install drivers for your device via Windows Update or as soon as you plug in your device into the computer. Most of the time it works, but if your device is so rare that it couldn't recognize, you will have to manually install the driver so that Windows 10 can work with your device. (Rare devices as in something like a rare earphone, USB thermometer, USB table fans, memory card reader, or some rare flash drives, keyboards and mouses.)
So, how do you install the driver for your device? When you first purchase your device, it should come with an installation disc which you can use to install the driver. You can also go online and download the device driver from your device manufacturer's website. One thing worth noting is that if you come across software that claims to be able to auto detect your devices' drivers, don't pay for it because they are mostly fake.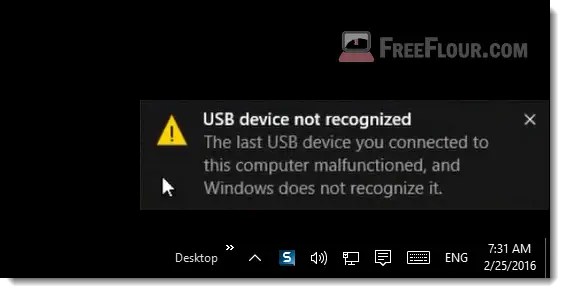 If your USB device's driver is too out of date for Windows 10 to even read, update your driver either via Windows Update, device manager or download manually from your device manufacturer's website.
Unplug PC Power, Restart, Replug USB device
How I actually solved my problem with USB device not recognized error in Windows 10 is by simply unplug the power adapter of my computer from the power outlet and plug it back after a few minutes.
I'm not sure why but the only way to explain it is that something must have gone wrong in the power circuit between the device and the computer which a complete power shut off was needed to fix it. So, you might as well just try to unplug yours and see if it works. At the same time, try to also restart your computer and re-plug your USB device.
Uninstall and re-install your USB device driver
In Windows 10, click on the Windows icon (or what we previously called the Start button), search for Device Manager. Open it. If there is any device with an exclamation mark beside it, it indicates that the device is not properly recognized. That should be the device you are trying to plug into your computer.
Right click on it, click uninstall. Restart your computer. Windows 10 should be able to automatically detect and re-install the driver for your USB device (only if it's able to recognize your driver, otherwise you will have to manually download or use a disc to install the driver).
Other Possible Causes and Solutions
Motherboard USB serial bus controllers' driver not properly installed. This is important because if the USB bus controller is not properly installed, your USB slot wouldn't work as it should and thus wouldn't be able to detect or recognize your USB device. Double check if you have already installed every driver needed for your motherboard. Use the installation disc that comes with your motherboard.
Try to use a USB mouse or keyboard on the same slot to see if it's the slot's problem. It can be also caused by old and faulty USB cables. Try with everything you have such as plugging your device to another computer, using another USB hub, etc to identify the problem source.
Some extremely old devices are not compatible with Windows 10 anymore. Check your device compatibility with Windows 10 and if it's true, there is nothing you can do.
Device actually corrupted or broken.
Try to use the Windows infamous troubleshooting tool. Sometimes it helps fixing the problems.