Microsoft Edge will attempt to save every of your visited webpage into the browsing history if it's not under inPrivate window (previously known as inCognito window). This simple tutorial will show you how you can view, manage and delete browsing history in Microsoft Edge in Windows 10.
When saving browsing history is enabled in Microsoft Edge, other than allowing you to browse to the old visited site via the browsing history panel, Edge will also show webpage suggestions based on your browsing history whenever you enter characters onto the address bar.
How to clear all Browsing History in Microsoft Edge
If you want to just flush away all browsing history and all sites you have ever visited in Microsoft Edge, follow the steps below.
Click on the hub icon which appeared to be a triple horizontal lines icon. This will bring up the Favorites, Reading List, History and Downloads panel. Click on the Browsing history which looks like a clock icon.
Click on the clear all history link to clear all the browsing history ever recorded by Microsoft Edge. You can't undo this once it's done. Think twice before proceeding as you might have some favorite websites that you wouldn't be able to recall the address in the future. Bookmark sites that you feel you will visit again before clearing the history.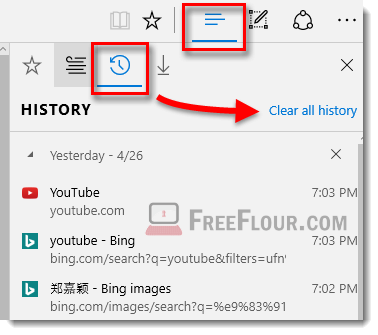 How to view, find, search and look for certain website in browsing history in Microsoft Edge
If you want to just look for certain site that you have visited before but can't recall the address, you can browse through the browsing history panel in Microsoft Edge to find the site you wanted.
The browsing history panel can be opened by clicking on the Hub icon (triple horizontal lines), then History (clock icon). Unfortunately, you can only manually search for the webpage you wanted by browsing the history one by one and with the help of sorting by date.
There is no search feature in browsing history like those in Google Chrome, Mozilla Firefox and Safari History Manager where you can do an automatic search with keywords to search for your desired webpage. This is one of the very basic features that Microsoft should seriously consider adding into Microsoft Edge (such a great simple web browser) as soon as possible as millions of people are requesting it every day.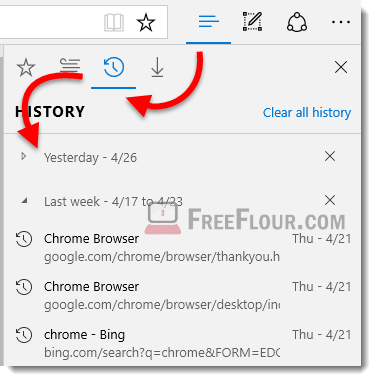 How to remove or delete only one certain website from browsing history
If you want to remove only certain fishy sites that you don't want other people who have access to your computer to be able to see in the browsing history, first, go to the browsing history panel.
To delete only a single webpage, locate the webpage which you want to remove, right click it and then select Delete.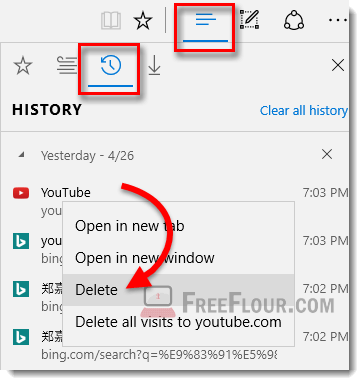 To delete all history from a single domain (website), select any one of the webpage of that particular domain, right click it and select Delete all visits to whatever.com.
How to clear other browsing data such as cookies, cached and form data, and passwords
To clear a specific data other than browsing history, click on more settings (…) icon in Microsoft Edge. Select Settings. Scroll down until you see Clear browsing data. Then click on the Choose what to clear button.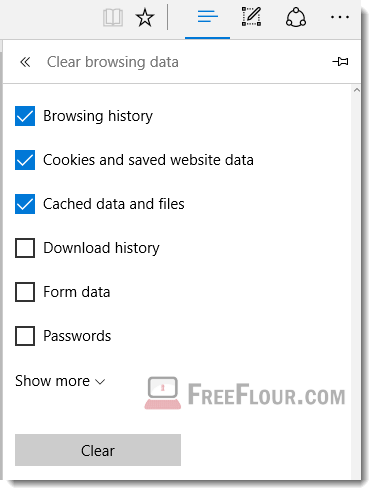 From this panel, you can select whichever item you wish to clear. When clear is clicked, everything related to the selected options will be cleared and can't be undo.
Options available are browsing history, cookies and saved website data, cached data and files, download history, form data and saved remember passwords in Microsoft Edge.