Every time we install or upgrade to a new Windows OS, internet explorer tends to always reset all its settings to default. Thus, switching the default search engine back to what Microsoft wants you to use, Bing (or possibly Yahoo, since they own both of them). This tutorial will show you how to change the Microsoft Edge's default search engine to Google in Windows 10.
This guide to change default search engine in Microsoft Edge only applies to Microsoft Edge, but not Internet Explorer. Microsoft Edge is one of the main features introduced in Windows 10. It's an entirely new internet browser meant to replace Internet Explorer 11 in Windows. It brings Internet Explorer to a whole new level. It's now much faster, lower resource intensive, and much easier to use (finally something competitive enough to challenge Google Chrome and Mozilla Firefox).
How to Change Default Search Engine in Microsoft Edge to Google
When you type a word or a phrase (that doesn't have an URL ending such as .com) onto to your address bar and hit enter, Microsoft Edge or Internet Explorer will perform a search using the default search engine and redirect you to the search result page. This tutorial is about how to change the default search engine to any search engine you desire in Microsoft Edge.
With all the new design and layout in Microsoft Edge, most of the settings that was once in IE are now in different locations. The address bar is now directly below your tabs. The setting button no longer looks like a gear. It's now appeared as a horizontal triple dotted line at top right corner in Microsoft Edge. You will have to open it to bring up the Microsoft Edge settings.
Steps to change default search engine in Microsoft Edge Windows 10
Click on the previously mentioned triple dotted line icon in Microsoft Edge to bring down a list of things you can do in Microsoft Edge. Click on Settings to access to the Microsoft Edge configurations.
In the Settings, scroll down and look for Advanced Settings. Click on View Advanced Settings.
In the next list of settings, scroll down again and look for Search in the address bar with option. By default it should show either Bing or Yahoo Search which is currently your default search engine. To change the default search engine for Microsoft Edge, click on the Change button.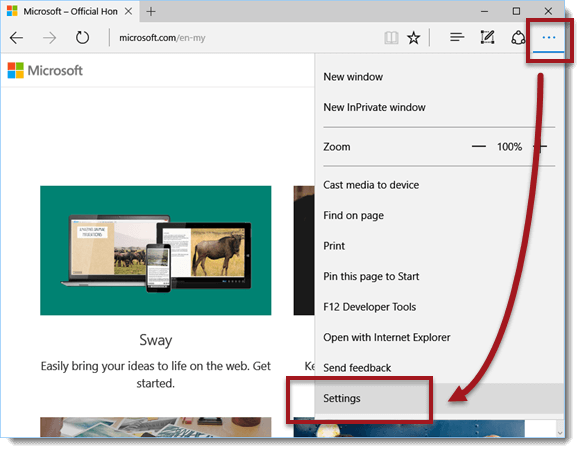 Select whichever search engine you want Microsoft Edge to use whenever you input search phrases onto its address bar. In our case, we selected Google as we want Google Search as the default search engine. Click on Set as default to finalize your default search engine selection.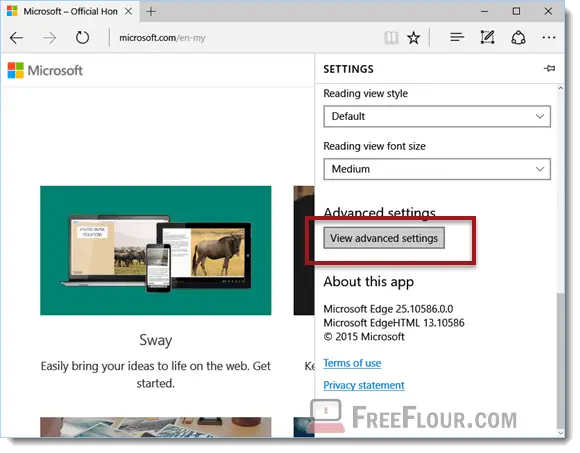 Now, try to search anything on the Microsoft Edge address bar again. It should show you results in Google or whichever search engine you have selected.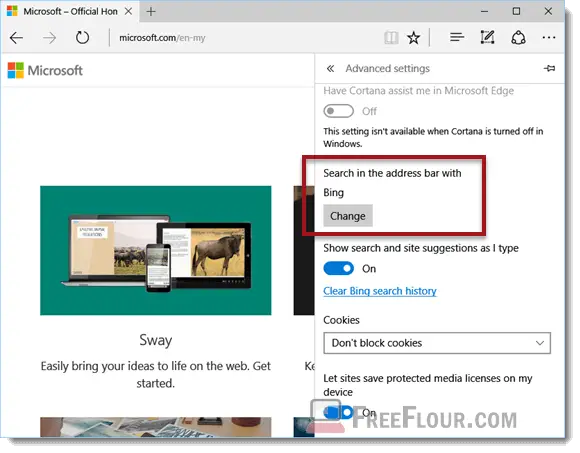 There are currently only 4 available search engines you can select from for Microsoft Edge default search engine – Bing, Yahoo Search, Google Search and YouTube Video Search. There may be more when patches kick in in the near future.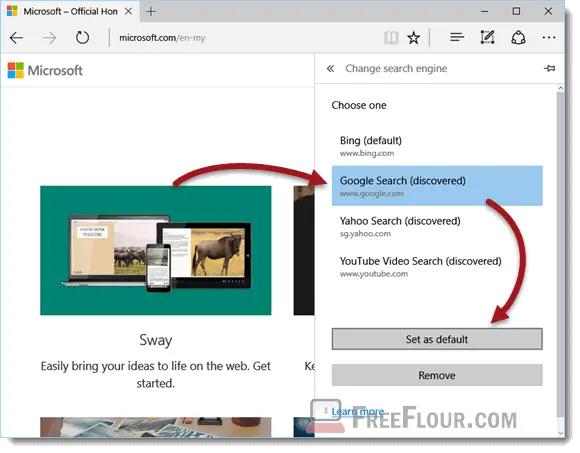 Other Tips for default search engine in Microsoft Edge
In the same setting column below the Search in the address bar with option, you can turn on or off the ability for Microsoft Edge to show search and site suggestions as you type in its address bar.
When this option is turned on, Microsoft Edge will show you search suggestions (mostly) or some sites URL that you've visited before as soon as you start entering words into the address bar.
You can also clear the search history by clicking the Clear X search history where X will show the current default search engine.