This guide will show you how you can create a Yahoo Mail account without a mobile phone number verification in the Yahoo sign up form.
Yahoo wants to secure their customers and users' privacy just as much as any online businesses such as Google and Microsoft which also require mobile phone number for verification during account registration.
Sign Up for Yahoo Account Without Phone Number Explained
This has been a common practice since a decade ago due to its effectiveness in securing users account by 2 step verification and password retrieval during account recovery. There is no way to login to your account even a hacker has your username and password, if they can't access to your mobile phone for the verification code when they login.
However, normally you get to choose if you want to use a phone number to better secure your account (or not using it) when you create an online account such as Gmail, Hotmail or Twitter. They don't usually force you to enter a phone number, there's always a skip button. But in our case now, Yahoo does force us into using our phone number to verify during its Yahoo Mail sign up. We have no choice but to follow their rules and use a phone number.
Nevertheless, giving your legit phone number to Yahoo Mail during sign up is still the very much recommended way as it's the most effective way to secure and defend your account from getting hacked.
But, I know sometimes we just need more than one account for some reasons and you might not want to use your phone in all these shadow accounts. So, here's a guide to create Yahoo Mail account without phone number.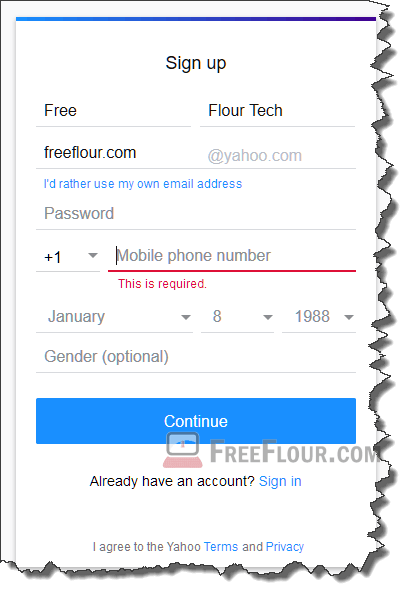 How to create Yahoo Mail account without phone number
Before we begin, we want to let you know that there is no other Yahoo sign up form or any other way at all to sign up for a Yahoo Mail account without giving them an actual mobile phone number. You can't just bypass the "this field is required" error upon submitting your registration for Yahoo. So, what we are actually about to do here is to use a temporary mobile phone service provided online to do the verification.
Please be warned that it will definitely be very insecure to use an account verified using a temporary phone number you have no control of and do not own. You shouldn't be storing valuable email, item or any kind of information in these yahoo mail accounts. Use it at your own risk. Here's how.
Go to tempophone.com or smsreceivefree.com (or google search others) to get a free temporary disposable phone number.

Or just Google search for "temporary phone number" for other websites that offer free disposable phone number.

Sign up (if it's required) and get a temporary phone number which can receive SMS.
Go back to Yahoo mail sign up form.
Enter the phone number you have just created.
Get the verification code from the temporary phone service website.
Enter the verification into the registration form.
There's your new Yahoo mail account.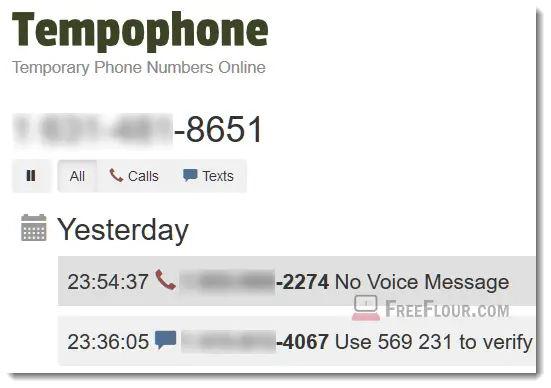 Other side tips on how to make a Yahoo account without phone number
You may want to use a phone number which country code matches the country you are filling in the Yahoo sign up form. If you are creating an USA Yahoo Mail account, use a USA phone number.
Try to not use the same number to create too many Yahoo accounts as this will possibly trigger their anti-spam system and suspend your account til they verify if the phone you provided is legit.
If you do not login frequently enough or if there is any suspicious activities that trigger their attention, Yahoo will once again request you to verify using the same phone number again. If you have no possession of the same mobile phone number again, you might lose that particular account.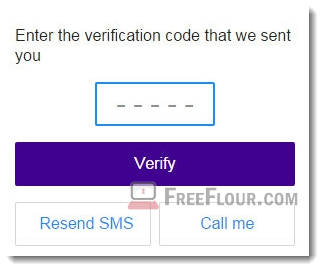 If, in the first place, you were thinking that one phone number can only be used for one single Yahoo account, you were wrong. It can be used in multiple accounts as long as it doesn't exceed a certain limit. If you need only one or just a few extra Yahoo Mail accounts, use your own phone number instead to sign up for Yahoo.
And again, if you insist to use a temporary phone number for creating a Yahoo Mail account, make sure you do not store any important private info you can't afford to lose or leak in that new account. Otherwise, use a legit phone number to make a Yahoo account.