In this guide, we will show you how to create a Twitter account for your business and how to sign up Twitter without using a phone number.
Well, just to be clear, creating Twitter account for business profile is no different than creating one for personal profile. We will be using the same Twitter Sign Up form as in fact there is only one Twitter registration page used universally no matter what kind of accounts you are going to create.
Create Twitter Account For Business – Twitter Sign Up
We will still guide you through the proper Twitter sign up process to create a twitter account for your business, but with extra tips and things you should keep in mind as you create your business profile on Twitter. If you are looking to create Twitter account for personal profile instead, the following guide will work just fine.
To create a Twitter account for your business:
Go to twitter.com.
Click on the Sign Up for Twitter button without filling anything.
In the next page, fill in your name, email and password.

Use a proper email as this will be your primary login credential.
Don't worry about the name field. This will not be the name used for your upcoming Twitter page. Just fill in your name.

Tips: Click on the advanced options. Tick Let others find me by my email address or phone number if you want people to be able to find your business by searching your email address or phone number.
Click on Sign Up when you've done filling.
Next, you will be asked to fill in your phone number for login verification to keep your account secure. This is recommended. If you insist not to provide your phone number for Twitter, click Skip.
Fill in your desired username.

This will be the main title for your Twitter profile page.
If you are creating this Twitter account for your business, fill in a name that best represent your business.

When you have reached to the What are you interested in page, simply select categories that you are interested in.

In a later page, Twitter will show you a list of Twitter accounts that best matches the topics you have selected earlier. You can then choose to follow them, or not.
When you follow a person, there is a high chance that he or she will follow you back. It's kind of an general ethic on Twitter.

In the next page, you can choose to import your contact from Gmail or Microsoft Outlook so that your friends in your contact can immediately find you on Twitter.
Setting up your Twitter profile for your business
Congratulations, you have successfully created your Twitter profile for your business. Now, we will need to configure and add more info about your business to your Twitter account.
Upload a profile picture by clicking on the profile picture field.

A profile pic is probably the most important item to show what your Twitter page is all about. Use a profile pic closely relevant and best represent to your business.
It will be shown as your primary icon in all your tweets and retweets.
Best recommended size for Twitter profile picture is 400×400 pixels.

Upload a header image.

A header image is a bigger image you can upload to assist visualizing your business.
Header image will only be visible in your Twitter page.
Largest acceptable size for Twitter header image is 1500×1500 pixels.
If you don't know what to upload, we suggest, for examples, a snapshot of your factory, office or team members, your products overview, or any larger image that best describes your business nature.

Write a short and effective bio for Twitter page that best describes the nature of your business – what services you are offering, what products you are selling, your business location, operating hours, a link to your business's website, etc.

The Twitter's bio has a limit of 160 characters. Be as summarized and meaningful as you can make it.

Create a pinned tweet. A pinned tweet is a tweet that will always be at the top of your twitter profile page.

You can use it for your main product link, upcoming events, important messages, campaign offers, etc.
You can also use it to extend your business bio if the original 160 characters bio is not enough for you.
When you pin another new tweet, the existing will be removed from the pin position.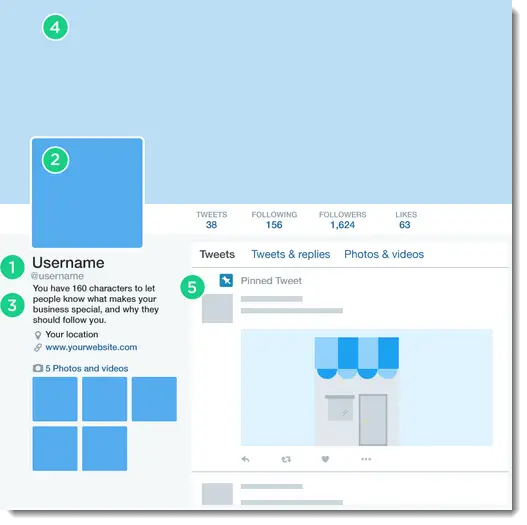 That's basically everything you need to pay attention to when you create a Twitter account for business. Optionally, you can try advertising with Twitter if you have the budget (although it's not as effective as you may think). For more further configurations, simply go to your Twitter settings page by clicking on your profile pic at the top right corner of the page, then Settings.
How to create Twitter account without phone number
Adding a phone number to your Twitter account benefits you in numerous ways and is very much recommended, but if you insist not to give Twitter your phone number, simply click on the Skip link when asked to enter phone number during the registration of Twitter account.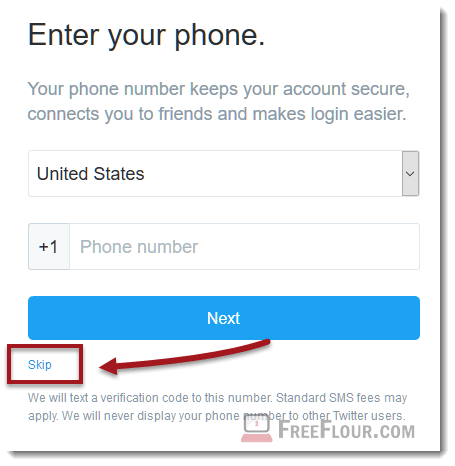 If you are continuously prompted for adding phone number with a warning message about to prove if you are a human and non-spammer, there is no way to skip this and you will have to give them a legit phone number for verification.
This often happen and get triggered when you create multiple accounts in short period of time using the same computer or IP address which makes you look like a spammer or bot. If that's the case, you will just have to enter your phone number to verify.