If you are wondering if you can sign in Twitter with Facebook connect or Instagram account, here's everything you need to know.
When we have too many accounts across the internet on web apps and social medias such as Twitter, Facebook, Instagram, Gmail, etc where we have different usernames and passwords, it can get very difficult to remember each one of them. So, we started looking for ways to unify them and use one single account to sign in to most web apps, as in our case now, Twitter login with Facebook connect or Instagram account.
Sign in Twitter with Facebook connect or Instagram account explained
In the past few years, both Facebook and Google work very hard to expand their account associations to as many popular web services as they can. As a result, we can often see "login with Facebook" or "create a new account using Google" options when we run into new web apps that requires registrations. As this feature available, we can sign in to these apps using just one single account universally.
But, unfortunately, Twitter no longer allows users to create accounts via Facebook connect or Instagram account, thus, there is no way to login twitter with Facebook or Instagram. However, you can still link your Twitter account to Facebook or Instagram account for other functionalities such as auto posting to Facebook when you post a new tweet on Twitter.
How to connect Twitter with Facebook
By connecting and linking Twitter with Facebook, you allow Twitter to automatically post your newly posted tweets and retweets to your Facebook wall.
Here's how to link Twitter with Facebook.
Login to your Twitter account.
Go to Settings > Apps, or optionally click here.
Under Applications, click on the Connect to Facebook button.
You will be prompted to login to your Facebook account. Sign in to Facebook.
Click on Continue as you or Okay.
In the next screen, you will be asked to set the privacy settings for who can see your tweets and retweets posted on your Facebook wall. Select friends only, public or whichever group you prefer.
Click Ok.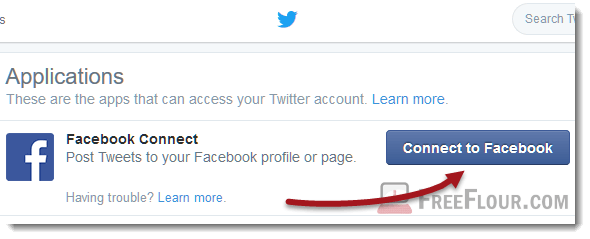 From now on, as soon as you post a new tweet or retweet on Twitter, it will also be posted on your Facebook profile wall automatically. If you want to disconnect the service, you can easily unlink it in the your Twitter's account Apps setting page mentioned in step 2 above.
The above instruction also applies to when you want to connect Twitter with your Facebook Fan Page. Just login to your admin account of your Facebook Fan Page when prompted and make sure there is no pop-up blocker blocking the login form prompted by Twitter.
How to link Twitter with Instagram
As for linking and connecting Twitter with Instagram, it's the other way round. Instead of Twitter posting your tweet to Instagram automatically, it's your Instagram photo uploads that will be posted on your Twitter. So you will need to do the configuration in the Instagram app Setting.
The linking and auto posting only applies to when you post photo on Instagram via a smartphone or tablet device. Here's how.
For iOS users:
Install both Twitter and Instagram apps if you haven't already done so.
Open Settings app.
Scroll down to look for Twitter. Tap on it.
Swipe to turn on Instagram.
Open your Instagram app. Login to your account.
Click on the setting button which looks like a gear.
Tap Share Settings.
Tap on Twitter. When prompted, login to your Twitter in the Instagram app.
That's it. Now your Twitter is linked with your Instagram account.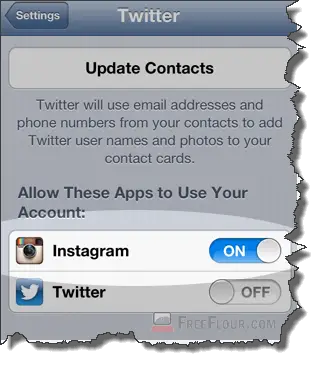 For Android users:
Open your Instagram app. Login to your Instagram account.
Tap on 3-dotted Settings icon at upper right corner of the screen.
Tap on Sharing Settings.
Tap on Twitter and login to your Twitter account in the Instagram window.
That's all.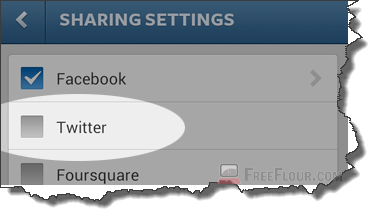 Whenever you post a photo on Instagram, it will now also be posted on your Twitter as a tweet.
Twitter Login with Facebook – Tweets not showing on Facebook wall
If you experience issue which tweets and retweets do not get posted on your Facebook wall, it's most likely due to failure in linking or sometimes bugs between the links and connections. Most of the time, re-linking Twitter with Facebook can usually solve the problem.
So, here's roughly how you reconnect Twitter with Facebook.
Go to Twitter Application Settings (Settings >Apps).
Click on Disconnect or Revoke access on Twitter for Facebook Connect.
Logout of your Twitter and Facebook accounts.
Optional step but recommended. Clear your browser cache and cookies.
Reopen your browser. Login to your Twitter and Facebook accounts.
Go back to the Twitter Apps Settings and link the Twitter for Facebook connect again.
Also, make sure you are not using some kinds of bots or hacks to auto mass posting on Twitter as there is a limit of how many tweets you can post in certain period of time. You may also get your account suspended or permanently banned by doing this.