If you have forgotten your Twitter account password, email or your bound phone number, here's a few possible ways to recover and reset your Twitter account's login info.
Here's a few situations when you should use this guide. If you suspect that your Twitter account is hacked and your password is changed without your consent, stay calm and reset your Twitter account's info immediately by following the guide below. If you have forgotten your Twitter login details merely because it's been too long since your last sign in, use the guide below to reset your Twitter password or recover your Twitter email username.
Twitter login forgot password and email or phone – The usual recovery
The easiest way to recover your Twitter account is by using the forgot password link in the Twitter login form.
This recovery method requires you to know at least one of the three mentioned account info, either the email address you used to sign up with Twitter, the username you've created and used in Twitter, or the phone number you added to Twitter. Simply enter anything you can recall.

Once you have entered the correct email, username or phone number, Twitter will provide a verification method according to the type of info you have entered. You will then have to verify it in order to recover your Twitter account.
For instance, if you can recall your email address, Twitter will send a verification email to the address you've entered. You will need to click the verification link to verify that you are your account's owner. Once verified, you can proceed to reset your account password.
If you have a phone number added, Twitter will send you a code by text SMS to the phone associated with your Twitter account. Enter the code to proceed password resetting.
If you have both added, you can select whichever verification method you prefer.
When wrong info is entered, Twitter will show error "We couldn't find your account with that information", meaning that it's not the correct info you used when you signed up with Twitter.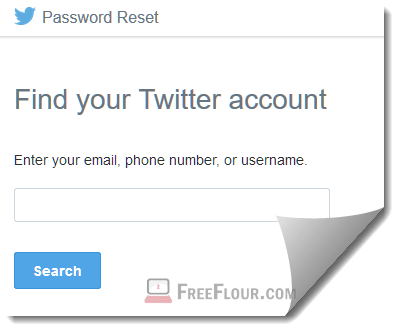 If you can't recall your Twitter email, username or phone number
If you have no access to your email or phone number anymore, the only resolution you have is to contact Twitter for login help in this page https://support.twitter.com/forms/signin?ref=password_reset, or by clicking the "I don't have access to any of these" link. Enter your username in the given field and enter all required info to create a ticket. It may take up to several days for Twitter to respond. That is if you still remember your Twitter username.
Tips: Well, if you can access to your Twitter page, the name beside @ is your Twitter username. You can also refer to your Twitter page URL for your username. For example, https://twitter.com/ThisIsYourUsername.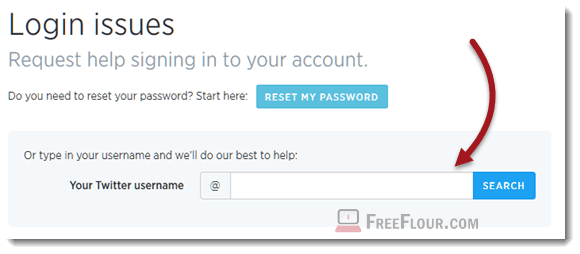 If you can't recall anything about your email, username and phone number associated with your Twitter account, there is literally no way to recover your account anymore.
Twitter Login Help Forgot Password and Username – What else can you do?
So, you still can't recall your Twitter account's password, email or bound phone number no matter how hard you try. Here's what you can do to maybe recover some of your Twitter's account details.
Check all your phones, tablets, PDA, laptops and computers to see if any of them have access to your Twitter account (also check if you have Twitter apps in your devices). By having access, I meant they might have your previous login session if you have the remember me option turned on when you last logged in.
If you have access to your account, you can easily find which email you used with it or add a phone number right away by going to Account > Settings. Please be noted that there is no way to read your password in an logged in account, just in case if you are thinking about it.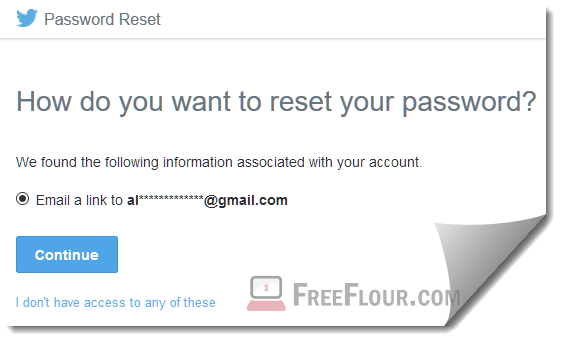 Check if you are at the RIGHT Twitter homepage
Check if you are in the correct twitter homepage URL. There are many fake Twitter sites on the internet that pretend to be the real Twitter homepage by showing the same layout and design.
It's to cheat you into believing they are the real one so that you would finally enter your details to them. If you enter your details with them, you won't be able to login to your account in their websites because it's fake. There is nothing behind the login form, it's just there pretending to be the real login form and once they get what they want, you will be redirected to some other malicious sites. The worst thing about this is that they will have your Twitter account login details now.
If you did enter your Twitter login info in one of these fake web page, reset your Twitter password now.
We are not from the official Twitter team and are in no way affiliated with Twitter Inc. We write this guide merely to help people who have trouble logging into their Twitter accounts. Information provided are solely based on our experiences with Twitter as a user. If you find this guide useful, feel free to share it with your friends or whoever else need it.