How to get Clash of Clans or Clash Royale free gems? Is getting Clash Royale or Clash of Clans free gems possible? This post is to warn people to keep away from falling into the traps of recent Clash Royale CoC free gems scam cases happening all around the internet and Facebook.
There is a series of scamming cases where the scammers offer clash royale or clash of clans free gems via social media such as Facebook and claim how they can create unlimited amount of coc gems for free. They even show you a video how they have actually done it with a bunch of fake people replying to the post saying they got it to work.
Are these Clash of Clans free gems and Clash Royale free gems tricks real?
These videos are all graphically manipulated or that they are using a developer's version of the game or app which they can change anything they want. There will never be free gems unless, of course, if SuperCell say so and give away free gems as promotion or in other similar events.
Clash Royale Gem and Clash of Clans Gem are recorded server sided, which means the number of gems each player acquires or owns is recorded in Supercell database. The only way to manipulate the number of gems you own (without expecting to pay for it) is by hacking into the database and change the number, which is impossible and illegal (surely possible if you are a genius and you are ready to go into the prison). Simply put, there is no free gems or trick to get free gems that can be offered by someone who obviously not from Supercell itself.
What do scammers actually want from you
Most of them, and I do mean most, will require you to provide them with your mobile phone number and claim that it's required for verification or could be other reasons that ultimately lead you into giving them your mobile phone number.
This includes all the process that requires you to start, solve and complete any survey (which usually looks retarded). After you have completed the survey, they will have a form ready for you to fill in your names, address and again, your phone number.
So, why do they want your mobile phone number? When you have given them your phone number, they will send an SMS to you which you will then required to reply to that SMS. Once you reply to the SMS, you will get charged for whatever amount they want to charge you and claim that it's a kind of service they offer to you via SMS, most would pretend to be some stupid info provider.
Then, they will stop replying you and leave you alone with no free clash of clans gems at all because they have got what they wanted at the first place.
Depending on how your telco (mobile network provider) deals with these types of problems, some would be able to refund you when you file a report and contact them for a refund. That isn't going to be easy. Those who are on a postpaid account which you get to see your bill only once per month would probably be too late when you realize you have been charged for something you never wanted.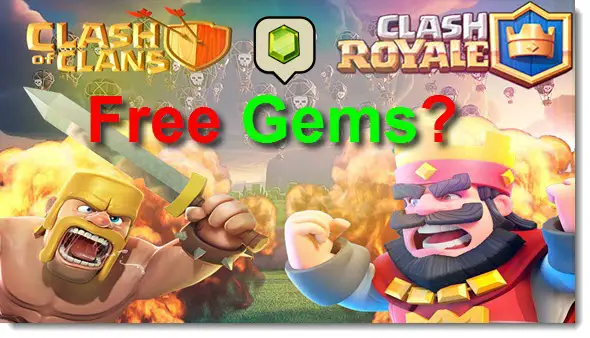 Free Clash Royale Gems / Clash of Clans Free Gems?
There ain't no such thing as a free lunch. And of course, there is also no free clash royale gems or free CoC gems without paying or working for them.
There will, however, be some in-game quests, events or promotions being offered by official game maker Supercell gradually where you can get free gems for Clash Royale or Clash of Clans by completing certain tasks without paying.
Do not trust any party who claim they can get you free CoC gems unless if you are so eager to willingly get cheated. Support the game, pay for the gems if you really need them, otherwise work harder both in life and in the game if you want to win others in the game. Good luck!